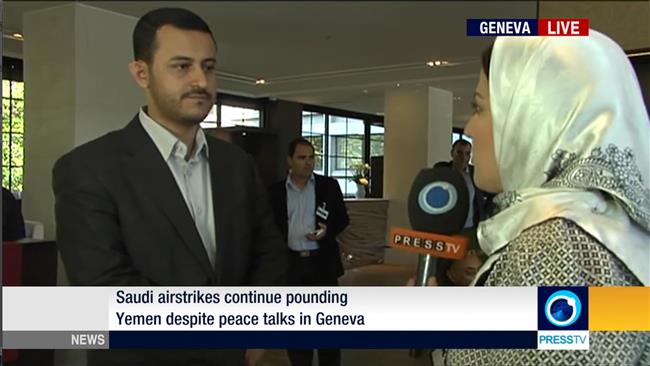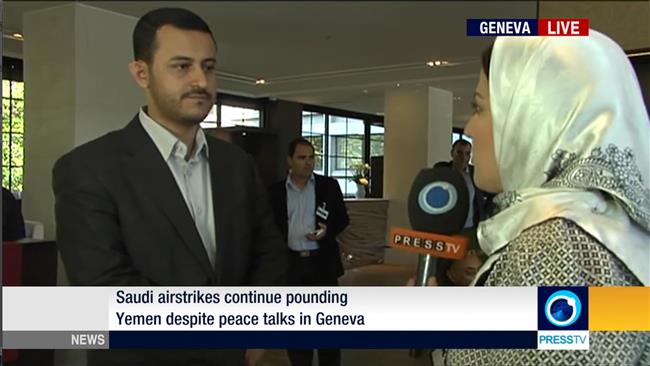 The head of the Ansarullah delegation in Geneva consultations on Yemen has criticized the UN for what he called the world body's inaction regarding Saudi Arabia's aggression against the impoverished Arab country.
Hamza al-Houthi told Homa Lezgee, Press TV correspondent in Geneva, in an exclusive interview that the United Nations "has not done anything" to stop the Saudi aggression against Yemen.
"Unfortunately, the UN, this international organization, has not done anything [to stop the Saudi military aggression] … and we have not heard any voice either from the UN or from the international community," Houthi said, stressing that the UN and the international community must play a "positive role" in ending the aggression.
He stressed that the conflict in the Arab country needs to be resolved solely by the Yemeni sides.
"We are insisting again that … consultations are the business of the Yemeni groups and all the parties must participate in those consultations," the head of the Ansarullah delegation said.
He strongly condemned the Saudi military aggression against his country, saying it is "against all international conventions and the UN Charter."
He also described the negotiations in the Swiss city of Geneva on Yemen as a positive move and expressed hope that the Yemeni sides could reach a solution to the ongoing conflict in their country.
Saudi Arabia has been pounding Yemen without a UN mandate since March 26.
The Saudi air strikes on Yemen come as representatives from several Yemeni factions, including the Ansarullah movement, are attending UN-brokered talks in the Swiss city of Geneva over the conflict in the Arab country.
In addition to Saudi air raids, Yemen is also the scene of clashes with militant groups as the Yemeni army along with popular committees, backed by Ansarullah fighters, is battling al-Qaeda-linked groups and the ISIL Takfiri terrorists across the country.