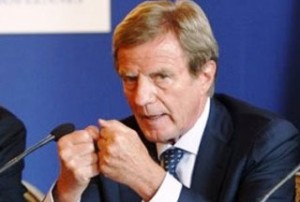 French Foreign Minister Bernard Kouchner claims that the UN Security Council (UNSC) is drafting new sanctions against Iran over its nuclear program.
According to Kouchner, the UNSC is working on drafting economic sanctions to restrict Iranian banks abroad and insurance of shipments to and from Iran but has yet to reached an agreement yet, Reuters reported on Thursday.
The French minister said that he expected world powers to agree on fresh sanctions against Iran soon, but indicated that China was still opposing such a move.
"I think it will come in the fairly near future," he said, adding that "we are working on it, France with the English, Americans and Russians now," Kouchner added.
The West accuses Iran of seeking to develop atomic weaponry through its nuclear program, calling on Tehran to abandon its enrichment activities.
Iran has repeatedly denied the charges, saying that it will not relinquish its legitimate nuclear rights under Western pressure.
Tehran says its nuclear program is peaceful and within the boundaries of the International Atomic Energy Agency and the Nuclear Non-Proliferation Treaty, to which it is a signatory.