Syria
UN envoy meets Damascus delegates at Syria peace talks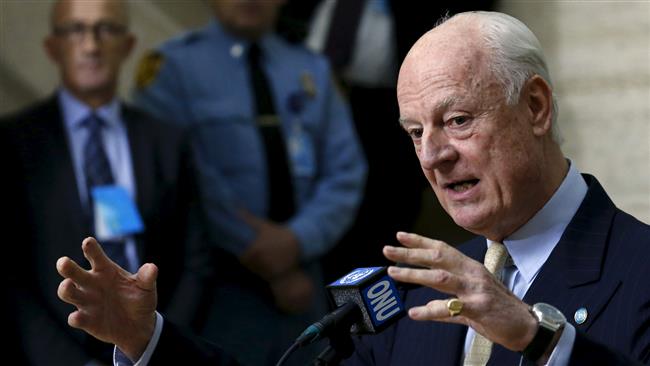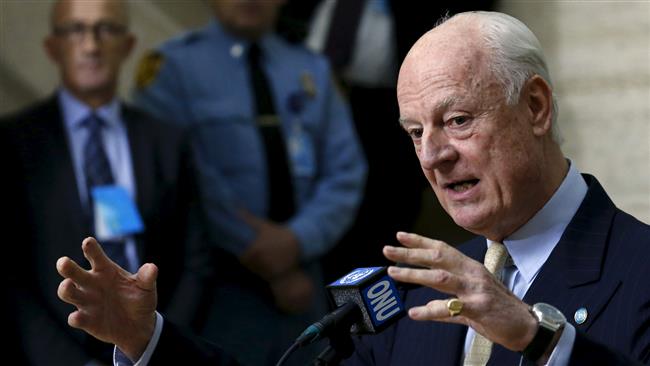 The United Nations special envoy for Syria has held negotiations with the Damascus government delegation as part of the UN-brokered talks aimed at finding a political solution to the conflict in the Arab country.
Staffan de Mistura's Tuesday meeting with the Syrian government representatives came one day after he announced the beginning of peace talks proper in the Swiss city of Geneva.
The main Syria opposition coalition, the so-called High Negotiations Committee (HNC), is also expected to meet de Mistura later in the day.
Damascus has objected to the presence of terrorist groups in the HNC backed by the United States and Saudi Arabia.
The ongoing Syria talks are to be held in an 18-month timetable under a resolution unanimously approved by the UN Security Council.
Adopted on December 18, 2015, the resolution calls for a nationwide ceasefire in Syria and the formation of a "credible, inclusive and non-sectarian" government within six months as well as UN-supervised "free and fair elections" within 18 months.
Some 17 nations – including the United States, Russia, Saudi Arabia, Turkey and Iran – held several rounds of talks last year in the broadest international push to end the crisis in Syria.
Syria talks in 'preparatory phase'
Meanwhile, Syria's ambassador to the UN, Bashar al-Jaafari, who has represented the Syrian government in the peace talks, said on Tuesday that the negotiations are still in a preliminary phase and called the opposition "not serious".
"We are still in the preparatory phase for indirect talks… We still don't know who opposition delegation is," Jaafari said following his meeting with de Mistura.
The foreign-sponsored Syrian conflict, which began in March 2011, has reportedly claimed the lives of more than 260,000 people, and displaced almost eight million others.