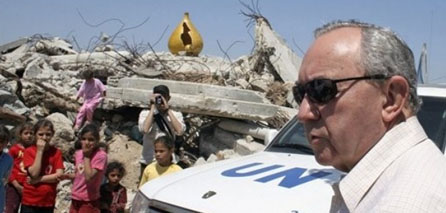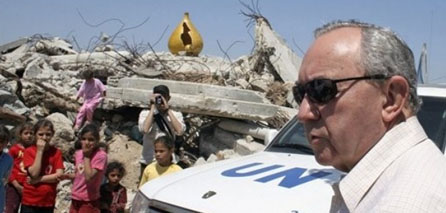 The UN commission of independent experts appointed to monitor Israeli and Palestinian probes into allegations of war crimes during Operation Cast Lead arrived in Gaza on Saturday.
Gaza's Foreign Affairs Ministry under-secretary Ahmad Yousef said the delegation arrived through the Rafah crossing between Gaza and Egypt to follow up on recommendations made in justice Richard Goldstone's report.
"The commission will come to monitor and evaluate the legal procedures on both the Israeli and Palestinian side on the Goldstone report, to ensure credibility and transparency during these investigations," he told Ma'an.
The committee, which includes jurists Christian Tomuschat, Mary McGowan and Davis Param Cumaraswamy, will meet with civil society representatives and UN organizations and groups as well as victims and witnesses who testified before the UN's independent fact-finding committee shortly after the winter 2008-09 war.
Members will also meet with the Hamas-run government's commission established to follow up with the recommendations of the report, Yousef added.
The committee was created in June 2010, specifically tasked with monitoring Israeli and Palestinian investigations into the deadly conflict in Gaza that left more than 1,400 people dead and injured 5,000 others.
Its roots were in a March 2010 UN Human Rights Council call for the committee's establishment to supervise "the independence, effective and genuineness of the investigations and their conformity with international standards," the UN reported at the time.
"The committee will focus on the need to ensure accountability for all violations of international humanitarian and international human rights laws during the Gaza conflict, in order to prevent impunity, assure justice, deter further violations and promote peace," High Commissioner for Human Rights Navi Pillay said when the committee was established.
On 28 July 2010, the Gaza government delivered the second part of its follow-up report to the UN, responding to allegations brought forward by justice Goldstone, officials said.