Middle East
UN human rights agency slams Qatar for jailing poet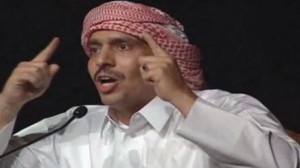 The Office of the United Nations High Commissioner for Human Rights (OHCHR) has criticized the Qatari government for sentencing a poet to 15 years in prison.
"This sentence is clearly disproportionate," OHCHR spokesperson Cécile Pouilly said on Tuesday, expressing serious concern about imprisoning Mohammed al-Ajami.
"We call for the respect of Mr. al Ajami's right to freedom of expression and for his immediate release," Pouilly said.
Ajami's lawyer Nejib al-Naimi said on Monday, "The Court of Cassation sentenced Mohammed al-Ajami to 15 years in prison," confirming the sentence handed down to the poet by an appeals court in February.
"Last January, we …. publicly expressed our concerns about the harsh sentencing, the fairness of his trial and about the many months Mr. al Ajami had spent in solitary confinement," Pouilly said.
Ajami was taken into custody in November 2011, following the publication of his "Jasmine poem," which slammed Arab governments across the Persian Gulf region in the wake of the popular uprisings in North Africa and the Middle East.
On November 29, 2012, a state court sentenced Mohammed al-Ajami, also known as Mohammed Ibn al-Dheeb, to life in prison for the poem. His sentence, however, was reduced to 15 years last February during a second appeal.
Throughout Ajami's trial, his lawyer insisted that there was no evidence Ajami had recited the poem he was being tried for in public.
Naimi, who is a former Qatari justice minister, said according to the charges against his client, Ajami was liable to a maximum of five years in prison.
In October 2012, Human Rights Watch said the prosecution of Ajami over his poem proves Doha's double standards on freedom of expression.