Myanmar
UN must be ashamed of its inaction in Rohingya case: Analyst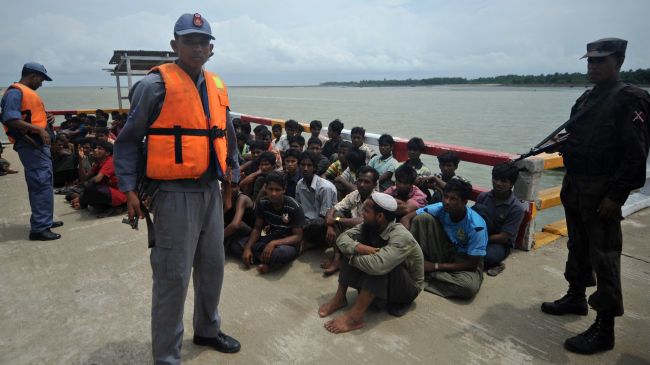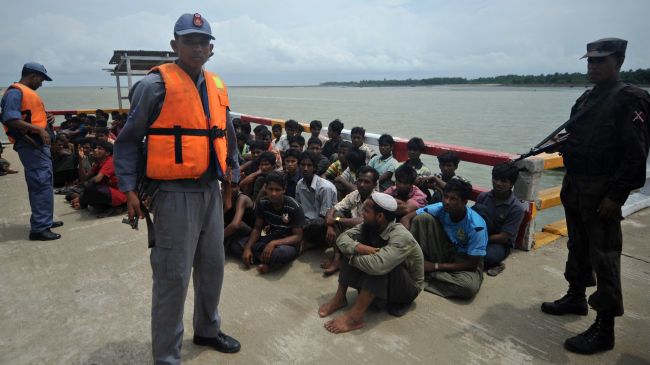 A renowned New York-based reporter tells Press TV that the United Nations should be ashamed of its inaction and silence over the massacre of Myanmar's Rohingya Muslims.
Myanmar's President Thein Sein has admitted that an extraordinary wave of ethnic and sectarian violence has targeted Rohingya Muslims in the west of the Southeast Asian country.
On Saturday, Amnesty International and Human Rights Watch issued separate statements, calling for Myanmar to take action to protect Rohingya Muslim population.
Human Rights Watch issued satellite pictures showing extensive destruction in a predominantly Rohingya area in Myanmar's coastal town of Kyauk Pyu. It said 'the victims were mostly Rohingya Muslims, who were targeted by non-Muslims.'
Office of the UN Secretary General Ban Ki-moon has issued a statement, saying, "The vigilante attacks, targeted threats, and extremist rhetoric must be stopped."
Sectarian violence re-emerged between Arakan Buddhists and Rohingya Muslims on October 21 and continued all week in at least five townships of Minbya, Mrak-U, Myebon, Rathedaung, and Kyauk Pyu.
The Myanmarese government says more than 2,800 houses were burned down in the violence.
Communal violence and related abuses by state security forces against Rohingya Muslims began in early June.
Myanmar refuses to recognize Rohingyas as Myanmarese citizens and classifies them as illegal migrants, although the Rohingyas have resided in the country for centuries.
Press TV has conducted an interview with the New York-based reporter, Maxine Dovere to further discuss the issue.
She is joined by two additional guests on Press TV's News Analysis program, Political Analyst Chris Bambery from London and Political Analyst and Writer Linh Dinh from Pennsylvania.
What follows is an approximate transcription of the interview.
Press TV: What are your concerns about the fate of these tens of thousands of Rohingya refugees who are heading to the already packed camps along Myanmar's western coasts right now?
Dovere: Well, the concerns are tremendous. They are people without a home, they are people without support from any nation, even Bangladesh from which they inherited their stems. Apparently, the Bangladeshi prime minister has said that her country is too populated and she has no place to take her own people refugees.
What are the concerns? The concerns are for the health, the safety, the children, the malnourished children who are already appearing in the camp situations and for peace in the area so that there is a cessation to murder and rampage.
Press TV: The question that was previously asked about the UN or any kind of international intervention on this case. We are hearing now of 75,000 people in the camps that are in a very bad condition in the border areas, we are hearing of the numbers increasing, you spoke about that yourself, the UN coordinator himself has described it as a very grave situation. But even before this new wave of attacks what was done for the case of these refugees? Why are not we seeing the kind of attention that at least the UN should be paying to these refugees?
Dovere: Indeed it should. These refugees and this situation stems from laws originally put into place in 1984, which step by step caused the Muslim population to become more and more 'stateless'.
It reeks of the Nuremberg laws, it is something that the world has seen before and should have had the responsibility of stopping.
The United States did have sanctions in place against the former dictator; but has as has Britain and as have most of the Western countries started to lift those sanctions with the emplacement of the new government since 2010.
The belief, I believe, was to encourage a more democratic state and resolution of some of these ethnic problems.
The fact that a pipeline that will supply china's western provinces that will run through this area, may have some input to economic interests as well.
Should the UN be doing more? The UN should be ashamed of itself for not helping these people and for not preventing the kind of distress that is occurring.
Press TV: The thing is, those who are supporting the Myanmarese government are saying that why should the government be unwilling to recognize another ethnic group when it already does recognize 135 ethnic groups?
So they are saying that this is actually about a case of illegal immigrants and it should be treated as such.
Others like Chris Bambery [other guest of the program] are saying that if we look at history, actually, Muslims have been living there for years and centuries and generations.
Your take?
Dovere: Well, I think that taking the moral high road as has been suggested that contracts be continued upon solving the citizenship position of this ethnic group would be a marvelous change in general economic and political policy worldwide.
The implication would be that there would be a way of gaining the citizenship related to business and that would not be out of the ordinary that has happened in many countries, where citizens who can contribute some aspects of economic development or business find a way to find citizenship.
I think it happens in America all the time when there are desirable people and certainly the people who have skills are desirable and this ethnic group has to be brought in among the other 130 plus groups and should be allowed a mechanism to have citizenship.
Bangladesh is refusing to call them citizens, to allow them to come to what would be perhaps their ancestral home.
There needs to be a way to handle the lives of 800,000 people with some civility.
Press TV: We are hearing some people saying that what is happening in Rakhin state is Buddhist extremists trying to create some kind of separation between the Muslims who live there and the Buddhists who live there and this is about an initial step towards a major ethnic cleansing.
Now do you think that this is something that, at least implicitly, the government is supporting to in some way or another force all the Muslims out of the country or in some way or other, actually, create this separation?
Dovere: Well, this is a classic example of creating an enemy in order to stem the problems of the government itself.
For a Nobel [Peace] Prize winner to say she 'Just does not know' it is shameful; If she does not know then let her get learn and understand what is happening to these people, who are her co-countrymen if they are not her co-citizens at this point.
There have been instances in history where entire populations were airlifted to countries that were willing to receive them.
I think one can look at the history of the Jewish population and its very, very successful relocation. Should there be a true and continuing undertaking to destroy this population, then it comes to the responsibility of so many of the world's countries to create a haven, there needs to be a unified response from members states of the United Nations, from coreligionist, from co-humans to save these people's lives and their future.