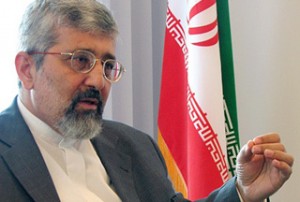 Iran's ambassador to the International Atomic Energy Agency (IAEA) says the UN nuclear watchdog's chief has confirmed that the country's nuclear program is peaceful in nature.
"The new director general of the IAEA in his report has confirmed the fact that Iran's nuclear program is peaceful and it has had no diversion towards military ends," Ali Asghar Soltanieh told IRNA on Thursday.
The IAEA Director General Yukiya Amano released his first report on Iran's nuclear program on Thursday.
"In fact Amano's report once more confirmed all previous reports over the past six years which showed that Iran's nuclear program is peaceful,"Soltanieh added.
The new report once again rejects Western allegations that Tehran is pursuing a military nuclear program through its uranium enrichment work.
The 10-page document which is to be discussed by IAEA governors at a meeting next month confirmed that Iran has produced its first batch of 20 percent enriched uranium at the Natanz enrichment plant.
Iran decided to enrich uranium up to 20 percent to fuel the Tehran research reactor, which produced radioisotopes for cancer patiends.
The decision came after a UN-proposed nuclear swap deal — which would require Iran to ship most of its low-enrich uranium abroad months before receiving nuclear fuel — failed to address the country's concerns regarding guarantees that the fuel would eventually find its way back to the country.