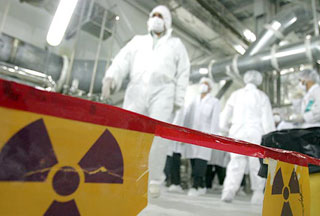 The United Nations atomic watchdog has convened for a two-day meeting to discuss the Iranian nuclear program.
According to AFP, the 35-member board of governors of the International Atomic Energy Agency (IAEA) began two days of deliberations covering various topics, including Iran, North Korea, Syria and a Russian proposal for a fuel bank.
It will be the last meeting under the leadership of Egyptian diplomat Mohamed ElBaradei, who will step down as the IAEA Director General on November 30, after 12 years in office.
The meeting comes after ElBaradei rejected a proposal by the Iranian government to exchange low-enriched uranium (LEU) in a simultaneous swap on Iranian territory.
Speaking at the opening of the two-day meeting, ElBaradei said he was "disappointed" by Iran's refusal to accept the IAEA-proposed deal, which envisages Iran shipping out most of its low-enriched uranium (LEU) to be further enriched and returned to the country for the Tehran medical research reactor.
"I am disappointed that Iran has not so far agreed to the original proposal or the alternative modalities, both of which I believe are balanced and fair and would greatly help to alleviate the concerns relating to Iran's nuclear program," he told the IAEA governing board.
The Iranian officials have firmly rejected the idea, mainly because there are no concrete guarantees that the country would in fact receive the nuclear fuel it requires.
Iranian Foreign Minister Manouchehr Mottaki has announced that Iran's enriched uranium supply will not be sent abroad to be exchanged with the fuel rods needed for the Tehran medical reactor.
He instead said that although Iran would prefer to buy the 20 percent-enriched uranium rather than exchanging it with the LEU, the country would consider the latter option as long as it takes place inside the Iranian territory.