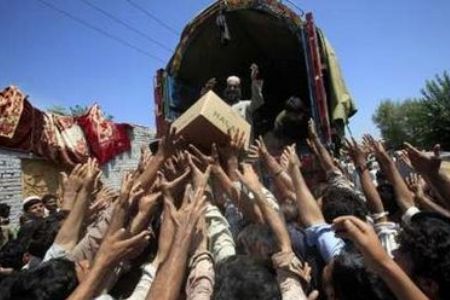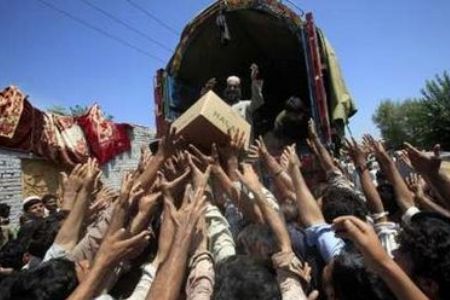 The United Nations has continued to rush relief to the flood victims in Pakistan as the people are striving to survive in the flood-stricken country.
The UN World Food Program (WFP) had distributed food to more than 40,000 people in four districts and plans to expand its operations to other districts shortly.
"We have reached more than 40,000 people with life-saving rations," WFP Executive Director Josette Sheeran said.
The agency is expected to feed 250,000 people by the end of the week.
The country's worst flooding in more than 80 years has killed more than 1,500 and affected about 3 million people.
Nearly 100,000 homes have been destroyed in Nowshera, Charsadda, Mardan and Peshawar, while some 50,000 others have sustained damage.
Meanwhile, the UN High Commissioner for Refugees has distributed some 10,000 tents and is aiming to initially reach at least 250,000 of the most vulnerable flood victims with blankets, shelter and other items.
The UN World Health Organization has provided health kits and emergency medicine for 200,000 for one month.
France's former ambassador to the UN, Jean-Maurice Ripert, would arrive in Pakistan on Thursday to join the UN team already working to assist victims of the disaster, said UN spokesman Martin Nesirky.