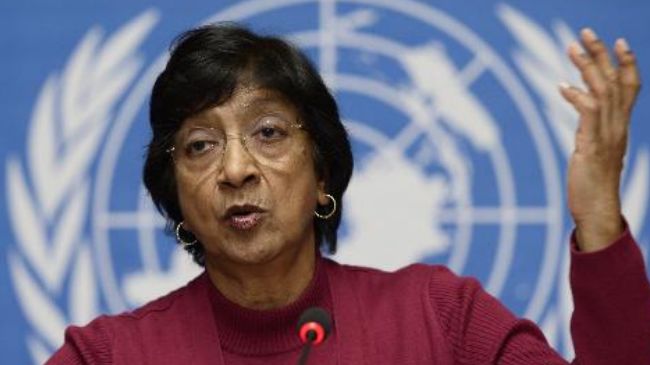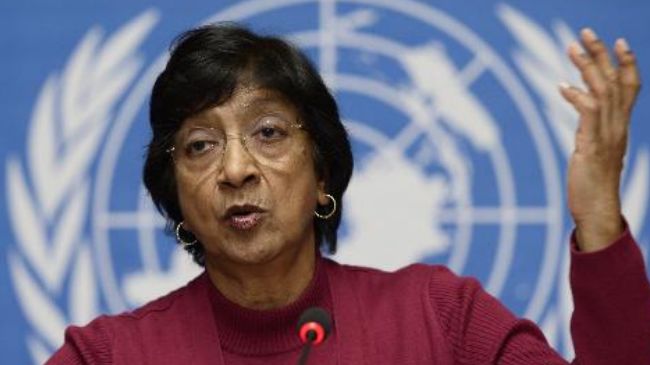 United Nations High Commissioner for Human Rights Navi Pillay says there is 'massive evidence' that war crimes have been committed in Syria since the crisis began in 2011.
Pillay said on Monday that the UN commission of inquiry into rights violations in Syria had produced "massive evidence… [of] very serious crimes, war crimes, crimes against humanity" in the country.
"The scale of viciousness of the abuses being perpetrated by elements on both sides almost defies belief," the UN official stated.
Pillay added that the Syrian government and militants appear to be imposing sieges on some areas as "a form of collective punishment," which is against international humanitarian law.
The Office of the UN High Commissioner for Human Rights has previously made accusations that war crimes were being committed in Syria. However, this is the first time Pillay has also extended the accusation to the government of Syrian President Bashar al-Assad.
She said the world powers should make accountability for crimes committed in the country a priority ahead of the upcoming Geneva conference.
Damascus has strongly rejected the comments by the UN rights official against the Syrian government.
Syrian Deputy Foreign Minister Faisal Mekdad dismissed the remarks and said Pillay's comments were "nonsense."
Pillay also said that the UN commission of inquiry compiled a list of those believed to be directly involved in serious human rights violations. She added that the names would not be revealed until they could be provided to a national or international investigation.
The crisis in Syria, which erupted in March 2011, has taken its toll on the lives of more than 100,000 people, according to statistics compiled by the United Nations.