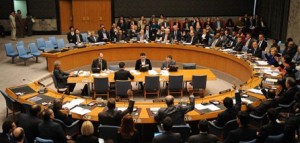 The UN Security Council has condemned a recent terrorist attack in southeast Iran that killed at least 41 people, including some senior military commanders of the Islamic Revolution Guards Corps.
"The members of the Security Council condemned in the strongest terms the deadly terrorist attack that occurred in the border city of Pishin in Iran on 18 October 2009, causing at least 57 deaths and 150 injuries," said Le Luong Minh, the ambassador of Vietnam, which holds the rotating presidency of the council this month.
The terrorist group Jundallah has claimed reponsibilty for the bombing that was carried out in Sistan-Baluchestan Province on Sunday.
The Iranian ambassador to the UN, Mohammad Khazaee, had earlier said, "Iran is determined to take all the measures necessary to bring this terrorist group to justice."
"We expect the international community, including neighboring countries, to fulfill their international obligations in this regard," he added.