Syria
UN Security Council extends Golan peacekeeping mandate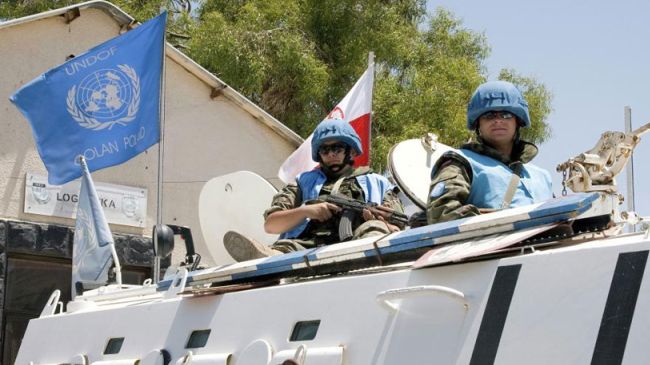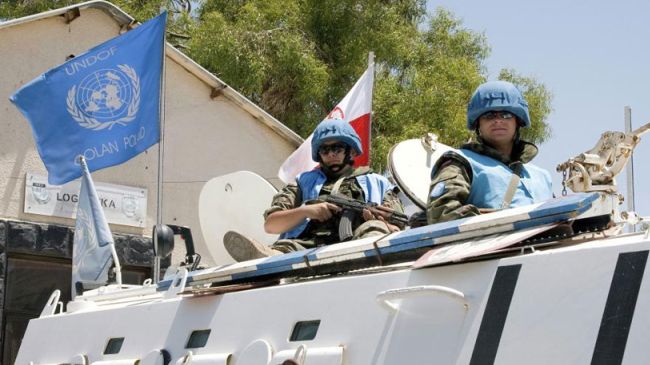 The UN Security Council has extended for six months a peacekeeping mission that monitors the zone between Syria and the Israeli-occupied Syrian territory of Golan Heights.
On Thursday, the 15-member Council unanimously adopted a resolution to renew the mandate of the UN Disengagement Observer Force (UNDOF), which has been deployed to the zone since 1974.
The Security Council also underlined the "need to enhance the safety and security" of the peacekeeping forces, endorsing recommendation of "further adjustments to the posture and operations of the mission, as well as to implement additional mitigation measures to enhance the self-defense capabilities."
The resolution did not define the measures. However, UN diplomatic sources said that UNDOF peacekeepers will likely receive machine guns, flak jackets and more armored vehicles.
The Council also condemned abduction of UN peacekeepers by Takfiri militants in Golan since March. Takfiris have detained UN peace observers on different occasions.
On May 15, anti-Damascus militants captured three unarmed observers from the UN Truce Supervision Organization (UNTSO) deployed to the Israeli-occupied territory. Four more were also held by the militants earlier in the month.
In March, 21 Philippine UN peacekeepers were abducted for five days by Takfiris fighting against the Syrian government.
On May 17, the Security Council "noted with grave concern" the growing number of seizures in the Golan Heights and expressed strong support for the peace observers.
Takfiris briefly captured the Quneitra crossing between Syria and the Golan Heights on June 6. However, the Syrian army later moved in and retook the area. The incident prompted Austria to announce it would withdraw from the UN observer force deployed to the heights.
The Philippines and other countries that provide troops to the UN force in Golan have expressed concern over the abductions. Philippine Foreign Minister Albert del Rosario has said that the country's contingent could be withdrawn due to such incidents.