Iran
UN underlines importance of meeting between Rohani, Ban Ki-moon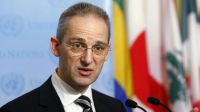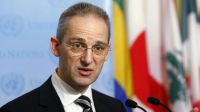 The United Nations Spokesman Martin Nesirky said President Hassan Rohani will meet with the UN Secretary General Ban Ki-moon next week.
According to IRNA, on holding a press conference after the meeting, Nesirky said due to many meetings with the secretary general, there would be no possibility for holding a press conference.
The spokesman added that the main points of talks between Rohani and Ban Ki-moon would be continuation of talks which Mr. Zarif, foreign minister of Iran, had with the secretary general on Thursday.
Ban Ki-moon, after meeting with Iran's foreign minister on Thursday, told reporters that he had very good and constructive talks with Mr. Zarif and discussed different issues with him.
Zarif, for his part, also called his talks with the UN secretary general constructive. He said he talked with Ban Ki-moon on Iran's nuclear issue and international, regional problems.