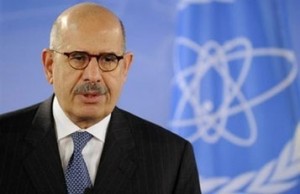 As Tehran is seeking guarantees for its nuclear fuel supplies, the head of the UN nuclear watchdog has called for Iran's quick response to his proposal on the issue.
"I urge Iran to be as forthcoming as possible in responding soon to my recent proposal," said the head of the International Atomic Energy Agency (IAEA) Mohamed ElBaradei told the UN General Assembly on Monday.
He added that Iran's swift response to the proposal 'could build confidence and trust'.
Following three days of nuclear negotiations between officials from Iran, the United States, Russia and France in October, Western powers put forward a proposal that Iran ship much of its low-enriched uranium (LEU) abroad for reprocessing into fuel for a Tehran medical research reactor.
Iran has stressed that the country's technical and economic considerations should be taken into account regarding the IAEA-brokered proposal.
"The issue at stake remains that of mutual guarantees amongst the parties," ElBaradei said.
"I should add however that trust and confidence-building are an incremental process that requires focusing on the big picture and a willingness to take risks for peace."
Speaking to Press TV on Monday, Iran's ambassador to the IAEA Ali-Asghar Soltaniyeh expressed the Islamic Republic's readiness to buy its needed nuclear fuel from global suppliers.
Soltaniyeh, however, added that the IAEA and the Western powers should assure Iran that the country's technical concerns regarding 'guarantees for the supply of fuel' are considered.
ElBaradei warned other countries not to 'jump the gun' or be swayed by politics, urging them to allow IAEA to conduct its inspections thoroughly and properly.
"Force should never be used unless every other option has been exhausted, and only then within the bounds of international law … All of these lessons are applicable today in the case of Iran," he added.