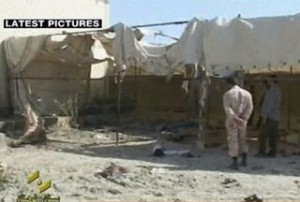 The United Nations and Venezuela have condemned a bloody terrorist attack, which killed dozens in Iran's southeastern province of Sistan-Baluchistan.
At least 42 people, including senior commanders from the Islamic Revolution Guards Corps (IRGC), Nour-Ali Shoushtari and Rajab-Ali Mohammadzadeh, were killed in a Sunday morning bombing carried out by the Pakistan-based Jundullah separatist group in Pishin, a borderline region in southeastern Iran.
"The secretary-general strongly condemns yesterday's terrorist attacks in the Sistan-Baluchistan province of Iran which resulted in the death of a large number of people and many injured," UN chief Ban Ki-moon's office said in a statement on Monday.
Venezuela also denounced the Sunday terror act, saying the South American government was a "revolutionary brother" of Iran.
A Venezuelan foreign ministry statement said that Caracas "energetically and decisively condemns the attack carried out against a meeting of community leaders and a group of commanders of the Islamic Revolution Guards Corps".
Britain, Pakistan and the US also have all condemned the terrorist attack and denied any involvement in the bombing, in which dozens were also injured.
Iran, however, says it has evidence that the deadly attack was launched from Pakistan and that the US and Britain aided the Pakistan-based Jundullah terrorist group that claimed responsibility for the bombing.
Iranian President Mahmoud Ahmadinejad, in a telephone conversation with his Pakistani counterpart Asif Ali Zardari, said the presence of terrorist elements in Pakistan was 'unjustifiable' and urged Islamabad to 'quickly confront' the Jundullah terrorists.
The ring has been behind a torrent of bombings and terrorist attacks in Iran.