Europe
UN welcomes Rouhani in General Assembly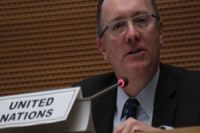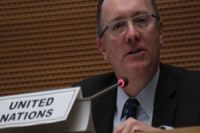 The United Nations under-secretary-general for political affairs has expressed optimism over the participation of Iranian President Hassan Rouhani in the 68th meeting of the UN General Assembly in New York next month.
According to IRIB, during a meeting with Iranian Deputy Foreign Minister for Legal and International Affairs Mohammad Mehdi Akhoundzadeh in Tehran on Monday, Jeffrey Feltman underlined the importance and the influential role of Iran in the Middle East.
He also hailed the past and present cooperation between Tehran and the world body on campaign against drug trafficking, environment protection, climate change, refugee affairs, interaction with the International Committee of the Red Cross (ICRC) and humanitarian assistance to Afghans and Iraqis.
Feltman stressed the importance of cooperation between Iran and the UN in order to tackle ongoing regional crises, particularly the conflict in Syria.
Akhoundzadeh, for his part, described Iran as one of the founders of the United Nations and an active member of the international community, noting that the Islamic Republic has always supported the establishment of global peace and security.
The Iranian official also pointed to the 16th summit of the Non-Aligned Movement (NAM) in Tehran in August 2012, and voiced Iran's strong resolve to optimize NAM and UN capacities during its rotating presidency of NAM.
The senior Iranian official also lambasted the unlawful and unilateral US-engineered sanctions against Iran over its nuclear energy program, calling on the UN to play an independent and effective role in line with its charter and unfazed by the policies of the certain superpowers.