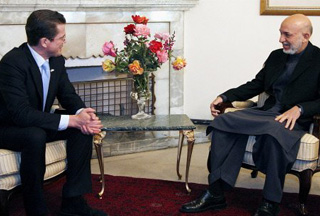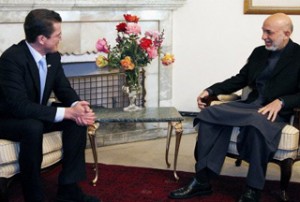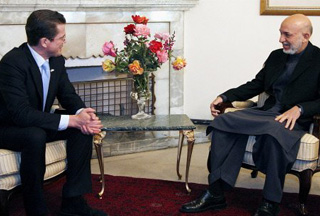 Afghanistan's President Hamid Karzai has urged the international community to take action against corruption in aid contracts.
Siamak Herawi, a spokesman for Karzai, said on Thursday that the Afghan president is "committed in further fighting corruption as we prepare to form a new government."
The remarks came after Washington reportedly expressed concerns over sending extra troops until Afghanistan shows signs of progress against corruption.
"Governance in Afghanistan must improve in a reasonable period of time to ensure a successful transition to our Afghan partner," A White House official was quoted by AFP as saying on Wednesday.
Germany also criticized the Karzai administration on Thursday, with Defense Minister Karl-Theodor zu Guttenberg saying that crime and corruption must be rooted out in the war-torn country.
"I made our expectations to the Afghan government very clear," Guttenberg said after meeting Afghan president Hamid Karzai in Kabul. "We talked about things like corruption, battling crime and good governance," he added.
"Just paying lip service isn't good enough. The Afghan government has to meet these targets," Guttenberg was quoted by Reuters as saying.
Karzai will take the oath of office on November 19, for another five years as the president of Afghanistan.
The recently re-elected head of state is facing widespread criticism for his alliances with warlords, while one of his two picks for vice president, Mohammad Qasim Fahim, is accused of rights abuses.