Iran
UNDP Hails Iran's Human Development Indicators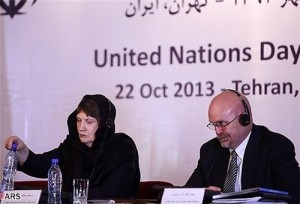 UN Development Program (UNDP) Administrator Helen Clark Helen hailed Iran for improving its human development indicators.
Addressing the UN Commemoration Day in a ceremony held here in Tehran on Tuesday, Clark, who also chairs the United Nations Development Group (UNDG), said Iran has gained the second place in the world in the field of the development of human force.
"This index has been created (by the UN) in 1990 and Iran has made good advances in this field right from the beginning in such a way that 99.9 percent of Iranian women stay alive after giving birth and 20 years has been added to life expectancy (rate) in Iran," she said
Clark said that women's rights are observed by about 90 percent in Iran, adding that women now have access to educational possibilities.
"I appreciate Iran's efforts in line with development," she reiterated.
Clark arrived in Tehran on Monday and according to a press release issued by the UN Information Center (UNIC), during her stay, Clark will meet and confer with a number of senior Iranian government officials, including Foreign Minister Mohammad Javad Zarif.
The objectives of Clark's mission to Iran include deepening, broadening and invigorating the development engagement of the UN and UNDP with Iran; seeking concrete ways to improve UN/UNDP's role in partnering the Government to address its development priorities and achieve the goals set forth in the UN Development Assistant Framework (UNDAF 2012 – 2016) which is based on the national development priorities outlined in the 5th National 5 year development plan and promoting the UN/UNDP's development priorities namely human development, inclusive growth, environment and sustainable development as well as overall development with a human face.