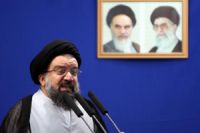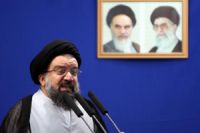 Tehran's interim Friday prayers leader, Ayatollah Seyyed Ahmad Khatami, has stressed that the world of Islam, by being united, can remove (wipe out or delete) the Israeli regime from today's world.
According to IRIB World Service, addressing a huge crowd of Friday prayers worshippers and the faithful in Tehran, Ayatollah Seyyed Ahmad Khatami strongly condemned the Zionist regime's many crimes and atrocities against the Palestinian nation – crimes which have been committed over a period of more than 60 years – saying the Zionists only understand the language of aggression and force.
Ayatollah Seyyed Ahmad Khatami said negotiations with the Zionists is useless , and what has really been effective in the occupied Palestinian lands so far has been the intifada and Palestinian resistance – which has worked — and not negotiations with the Israeli regime which has invariably been in Israel's favor and to the detriment of Palestinians.
In further remarks, Tehran's interim Friday prayers Leader criticized a number of regional Arab regimes which have ties to the Zionist regime, and which support this regime in regional and international forums, emphasizing that the best way of weakening the Zionist regime is to isolate this regime.
Emphasizing on the disclosure of the Zionist regime's crimes in the regional and international scenes, Tehran's interim Friday Prayers leader noted that the usurper Israeli regime violates all human principles and international rules and regulations.
Furthermore, Ayatollah Khatami termed the holding of the 16th Summit of the Non-Aligned Movement in Tehran as a success for Iran, while adding it is expected that the leaders of this movement would adopt a resolute and robust stand against the greed and crimes of the US and Zionist regime in the region, including their crimes in Palestine, Bahrain, and Syria.
Referring to developments in Syria, Tehran's interim Friday Prayer leader said that the US continues to support terrorists in Syria and commits numerous crimes. But, the Syrian government and nation will emerge victorious through their resistance against the enemies' conspiracies.
Addressing a few regional countries which have come along with the US and the Zionist regime against the Syrian government and nation, Ayatollah Khatami said these few regional states will be regretful because they will lose popular support and the Al-Qaeda terrorist network which today commits crimes in Syria with the US support, will also stir crises in the countries that have aligned with the US.
Ayatollah Khatami also sympathized with the survivors of earthquake in East Azarbaijan Province, northwestern Iran, and criticized the anti-Iran media for their politicized handling of this issue. Ayatollah Khatami noted that the presence of the Leader of Islamic Revolution, Ayatollah Seyyed Ali Khamenei, in quake-hit regions shows that the Iranian government has paid special attention and has focused on the quake-hit regions and their residents.