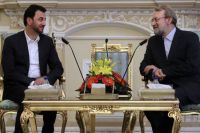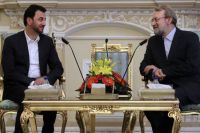 Iran's Majlis Speaker Ali Larijani says unity among political groups in Iraq can halt the spread of extremism and violence in the Arab country.
In a meeting with Iraqi Minister of Youth and Sports Abdul Hussein Abtan, he said in Tehran on Wednesday "National unity and solidarity among Iraqi political groups can prevent the spread of violence and extremist groups in Iraq."
The top Iranian parliamentarian also expressed hope that the establishment of a new government in Iraq would accelerate the process of establishing security and combating terrorist groups in the Arab country.
Larijani further reiterated the Islamic Republic's support for any approach that seeks to restore security and stability to Iraq.
Elsewhere in the meeting, the Iraqi minister appreciated Iranian government and nation's backing for the Iraqi people, saying the Islamic Republic has always been a supporter of peace and the fight against terrorism in Iraq.
He also stressed the willingness of all the political groups in Iraq and its new government to expand ties between the two neighboring countries in the political, economic and cultural fields.