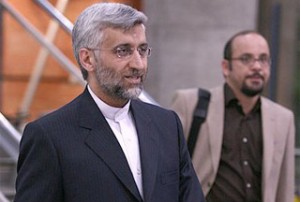 Secretary of Iran's Supreme National Security Council Saeed Jalili says, unlike Washington, Tehran has always depended on its vast human resources for its security needs.
"The Islamic Republic, with the full support of the Iranian people, has always remained immune to foreign threats over the past 30 years," he said on Monday.
Despite possessing "nuclear and non-nuclear arsenals," and relying on "advanced and sophisticated weaponry," Washington and other world powers have failed to establish lasting security, Jalili added.
"When it comes to providing security, unlike the United States, the Islamic republic of Iran bases is approach on justice, serving the people, and interacting and communicating with them," he added.
Jalili was speaking against a backdrop of a deadly terrorist attack that left more than 40 people killed in the southeastern province of Sistan-Baluchestan to on Sunday.
The Pakistan-based Jundallah terrorist group has claimed responsibility for the attack, which also resulted in the death of senior commanders from the Islamic Revolution Guards Corps (IRGC), Nour-Ali Shoushtari and Rajab-Ali Mohammadzadeh.
Led by Abdulmalek Rigi, Jundallah terrorists have staged a tidal wave of bombings and terrorist attacks in Iran, one of which left at least 25 Iranians dead in early June.
Although tragic and heartbreaking, the incident, "which saw the blood of IRGC martyrs and non-Baluch compatriots shed alike," will further strengthen unity and solidarity among Iranians, Jalili concluded.