Syria
UN's brahimi holds 'Constructive, Friendly' talks with Assad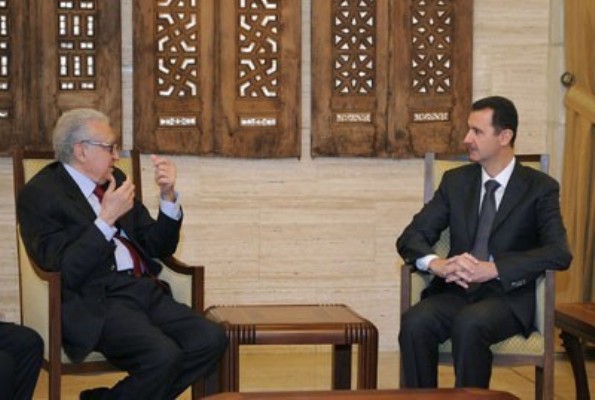 United Nations International envoy to Syria Lakhdar Brahimi announced on Monday that he had the honor to meet Syrian President Bashar al-Assad who expressed their meeting as "friendly and contructive."
"I had the honor to meet the president and as usual we exchanged views on the many steps to be taken in the future," Brahimi told reporters at his hotel, a day after he arrived to launch a fresh bid to end the conflict roiling the country.
Brahimi said he hoped all parties would reach agreement to end the "worrying" situation in Syria.
"Assad expressed his views on the situation and I told him about my meetings with leaders in the region and outside," said the veteran Algerian diplomat who took over his present task from former UN chief Kofi Annan.
Brahimi recently held talks with US and Russian officials, who hold opposite views on how to deal with the Syrian crisis.
Assad described his meeting with Brahimi as "friendly and constructive," according to state television. "The government is committed to ensure the success of all efforts aimed at protecting the sovereignty and independence of the country," Assad said.
State news agency SANA said Foreign Minister Walid Muallem, his deputy Faisal Miqdad and presidential advisor Buthaina Shaaban all attended Assad's meetings with Brahimi.
Brahimi's trip is his third to Damascus since taking his post in August.