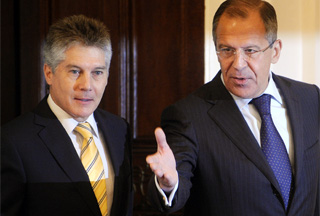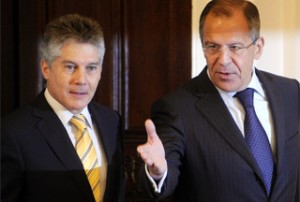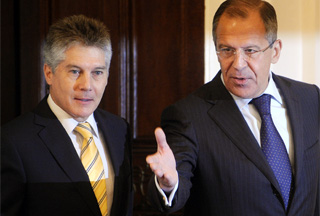 Russian Foreign Minister Sergei Lavrov hints that growing impatience within the UN Security Council over Iran's nuclear program could lead to a "response."
"If there is no progress and the situation remains deadlocked, I don't think the Security Council will be watching it for too long without response," Lavrov told a press conference in Moscow on Thursday.
After vaguely warning of more UN sanctions, Lavrov went on to highlight that Russia was more interested in implementing a plan brokered by the International Atomic Energy Agency (IAEA), which makes Iran's uranium enrichment highly dependant on foreign processing.
"We have a position that follows, first of all and principally, the aim of carrying out those decisions that were taken by the International Atomic Energy Agency, which were then supported by the UN Security Council," Lavrov added.
Russia is one of the plan's main sponsors.
The nuclear impasse has seen United States and its allies accusing Iran of a clandestine agenda to develop nuclear weapons under the guise of its current efforts for a peaceful civilian nuclear technology.
Iran firmly denies the allegations.
While in recent weeks Moscow has signaled possible support for the additional UNSC sanctions Washington has been rallying support for, it has stressed that it will not join any that are harshly punitive.
"There is no evidence that Iran has made a decision to produce nuclear weapons…We don't want the non-proliferation regime to be used for … strangling Iran, or taking some steps to deteriorate the situation [and] the living standards of people in Iran," Lavrov said in a recent interview with RIA Novosti.