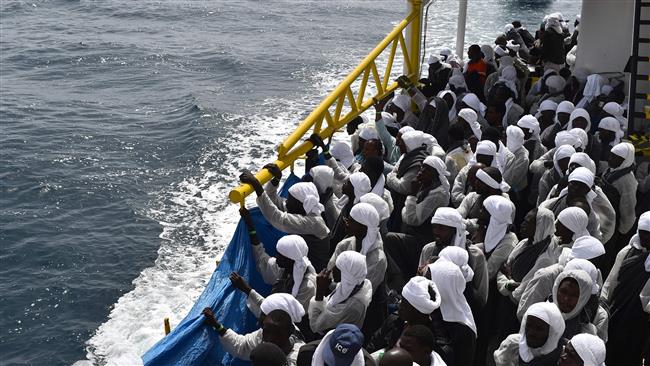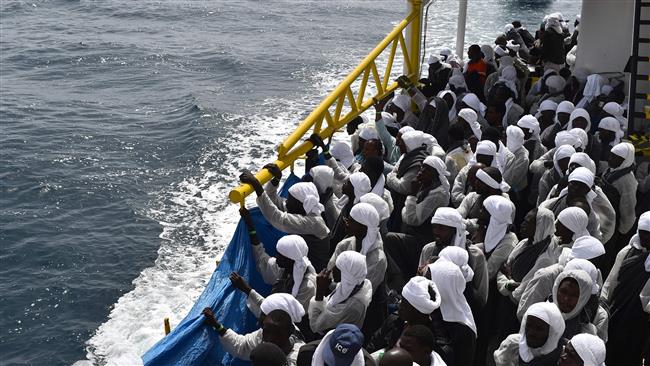 The United Nations (UN)'s refugee agency says up to 700 asylum-seekers may have lost their lives in three shipwrecks in the Mediterranean Sea over the past few days.
Carlotta Sami, a spokeswoman for the UN High Commissioner for Refugees (UNHCR), said on Sunday that the deadly incidents happened off the coast of Libya on Wednesday, Thursday and Friday.
"The situation is chaotic, we cannot be sure of the numbers, but we fear up to 700 people may have drowned in three shipwrecks this week," she said.
The UN spokesman said one of the shipwrecks was believed to have claimed over 500 lives on Thursday morning, adding, "We'll never know the exact number, we'll never know their identity, but survivors say that over 500 human beings died" in the Thursday incident.
Survivors say at least 40 of the dead were children, including newborn babies, the official noted.
Separately, almost 100 refugees are missing from the boat that sank on Wednesday.
In the third shipwreck on Friday, at least 45 bodies were pulled from the water and an unspecified number of others are missing.
Survivors were brought to safety at the Italian ports of Taranto and Pozzallo.
Meanwhile, some humanitarian groups citing testimonies from survivors have put the death toll from the shipwrecks at much higher.
Giovanna Di Benedetto, a spokeswoman for Save the Children, said survivors have spoken of around 1,100 people setting out from Sabratha in Libya on Wednesday in two fishing boats and a dinghy.
UK coast guard rescues 19 refugees
On Saturday, the UK coast guard rescued 19 refugees in the English Channel after their inflatable boat started to take in water.
The rescue mission involved the deployment of a rescue helicopter and lifeboats from Dungeness and Littlestone, which are coastal towns in Kent, in southeast England.
The UK Border Force is taking care of the rescued asylum seekers.
Europe is facing an unprecedented influx of refugees, most of whom are fleeing conflict zones in Africa and the Middle East, particularly Syria.
Many blame major European powers for the unprecedented exodus, saying their policies have led to a surge in terrorism and war in the violence-hit regions, forcing more people out of their homes.
At least 194, 611 asylum seekers have reached Europe via the Mediterranean Sea so far this year, while 1,475 people died in their perilous journey to the continent, according to the latest figures by the International Organization of Migration (IOM).