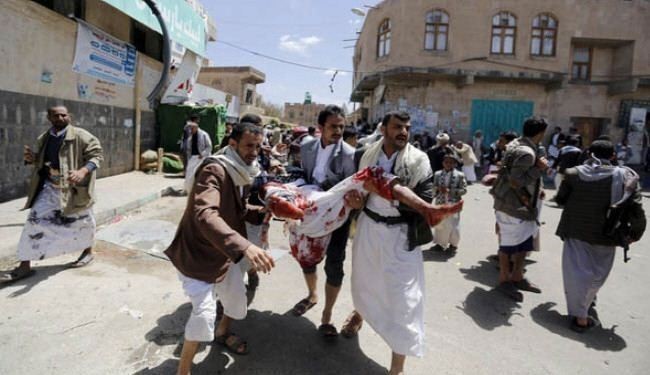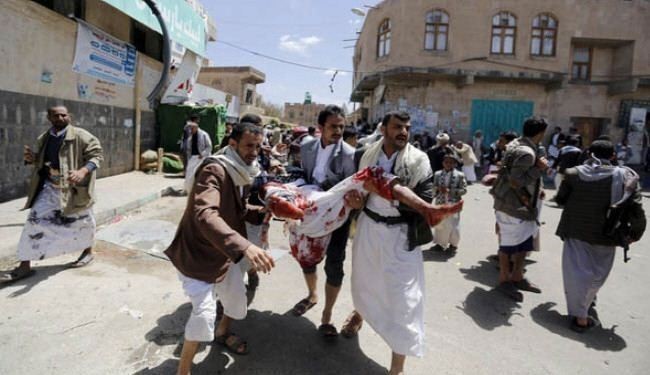 Saudi-led airstrikes killed at least 96 people and wounded over 248 people near Yemen's border with Saudi Arabia and in the capital Sanaa Wednesday, residents said, the deadliest day of bombing in over two months of war in Yemen.
Saudi-led coalition began airstrikes on March 26 in a campaign to restore Yemeni fugitive former and ousted President Abed Rabbou Mansour Hadi to power.
Wednesday's air raids on the Bakeel al-Meer area in Al-Hajjah province across Saudi Arabia's border with Yemen killed at least 40 people, most of them civilians, local inhabitants said.
Tribesmen aligned with the Houthis Revolutionary Forces have been fighting Saudi ground forces in the area in reaction to Saudi massacre in Yemen.
"Saudi warplanes bombed civilians," a resident told Reuters by phone. Several hours later, airstrikes hit a Special Forces base allied with the popular forces led by Ansarallah in central Sanaa, Yemeni news agency Saba said, in an account confirmed by residents.
"Around 40 people were martyred and more than 100 others were wounded, according to a preliminary toll, in bombing by the Saudi aggression's planes on the Sabaaeen area in the capital Sanaa today".
On the other hand Two Saudi border guards have been killed and five others wounded by shellfire on the frontier with Yemen, official media reported.
The deaths occurred when "military missiles from Yemen" struck their position at Zahran South in the Asir border region Wednesday, Riyadh's interior ministry said in a statement carried by the official Saudi Press Agency.
Saudi warplanes and ships also hammered Yemen's largest military port in the Red Sea city of Hudaida at dawn Wednesday, a local official said, the most serious attack on the country's navy in over two months of war.
In Taiz Saudi attacks to a mosque and populated market killed 19 civilian.
In a new report Wednesday, World Health Organization chief Margaret Chan said that Yemen's conflict has killed up to 2,000 people and wounded 8,000, including hundreds of women and children.
Chan also said that the killings sometimes included whole families, giving the example of a 65-year-old woman named Fathiya who lost 13 members of her family in an attack that left her the only guardian of three surviving grandchildren.