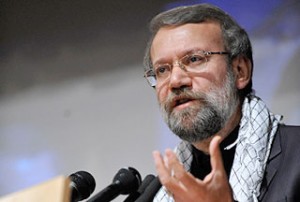 Iranian Parliament Speaker Ali Larijani said Tuesday the US government has a lot of ground to cover if it wants to make up for the deep 'animosity' it has manifested toward Tehran.
"Hasn't the US created obstacles to impede the nation's nuclear program? Didn't they assume a supportive role in Saddam's war [against Iran]? Didn't they shoot down the Iranian passenger airliner," he said at the Parliament.
Larijani added that the US had also worked hand in glove with the anti-Iran terrorist group, Mujahedin Khalq Organization (MKO), in "undermining the territorial integrity and stability" of the country.
"So what has come of some people to overlook such animosity?," Larijani asked, a day after anti-government protests were reported during rallies on Student Day.
December 7, the national Student Day, marks the 1953 killings of three university students by the regime of Iran's last monarch during a protest against the visit of then US Vice President Richard Nixon.
Nixon was traveling to Iran a few months after a CIA-backed coup overthrew the country's democratically elected Prime Minister Mohammad Mosaddeq.
According to IRNA, sporadic clashes erupted on Monday between the protesters and security forces near the main campus of Tehran University.
Tehran Police Chief Brigadier General Azizollah Rajabzadeh said 204 people were arrested during "the riots for instigating violence and disrupting public order."