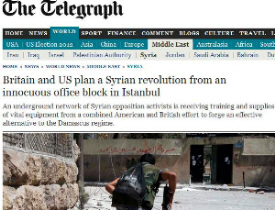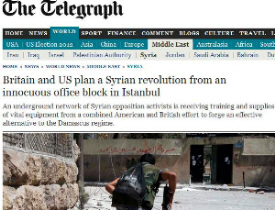 The British newspaper The Telegraph revealed Sunday that a secret network of Syrian insurgents are receiving extensive training in the Turkish capital of Istanbul and supervised by American and British officers.
Under the title of "British and U.S. plan a Syrian revolution from an innocuous office block in Istanbul," the daily said that the support schemes are overseen by the US State Department's Office of Syrian Opposition Support (OSOS) and Foreign Office officials.
"America has set aside $25 million for political opponents of President Bashar al-Assad while Britain is granting £5 million to the cause of overthrowing the regime," the daily added.
It also quoted a Whitehall official as saying that the effort was not about building an alternative to the so-called Syrian National Council, "but a means to enhance the role of those dissidents still within Syria."
"Victoria Nuland, the U.S. State Department spokesman, confirmed the OSOS program last week and said its full effect would only be seen when President Assad leaves office," the Daily Telegraph continued.
"There are groups inside and outside Syria beginning to plan for that day-after and beginning to plan for how they might quickly stand up at least that first stage of transition so that we could move on when Assad goes, because he will go," the British newspaper quoted her as saying.