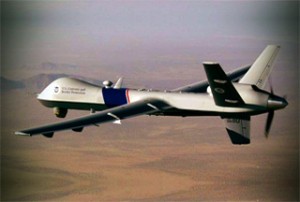 Two US drone attacks on Pakistan's North Waziristan tribal region have killed at least 16 people and injured a number of others.
Ten people were killed when a drone fired five missiles at a vehicle in Mizar Madakhel village, Pakistani intelligence officials confirmed on Wednesday.
The second drone fired three missiles at villagers, who were recovering bodies from the site of the first attack, killing six others, Press TV correspondent reported. Several Pakistanis were also wounded in the strikes.
The US carried out numerous such attacks on Pakistan's tribal areas last year, killing hundreds of people — mostly civilians.
Washington claims the strikes target pro-Taliban militants. Islamabad has repeatedly condemned the attacks, saying they violate Pakistan's sovereignty.
Earlier in March, a Washington-based think-tank reported that US drone attacks have killed over 1200 people in Pakistan over the past six years.