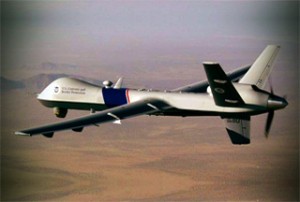 A US drone has crashed in the tribal areas of northwestern Pakistan, reportedly targeted by local tribesmen, area residents say.
The local tribesmen claimed that they shot down an unmanned aircraft in Miranshah in northern Waziristan, a Press TV correspondent reported.
This is the second drone, allegedly downed by local tribesmen, in the same town in less than two days. The drone crashed 4 kilometers (2.5 miles) from the town of Miranshah on late Sunday.
Pakistan has publicly criticized the US drone attacks, saying they fuel support for militants.
CIA-operated drones have bombarded civilian areas over the last year killing hundreds of people.