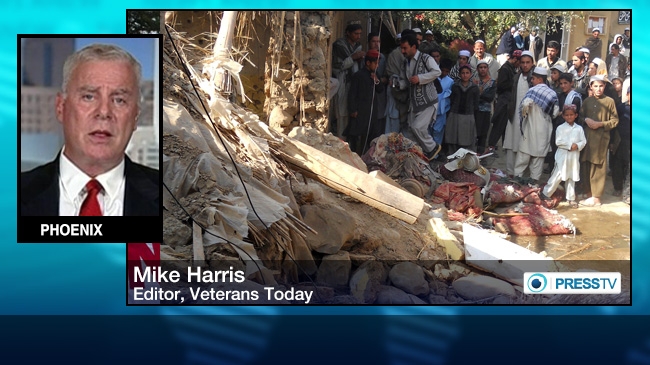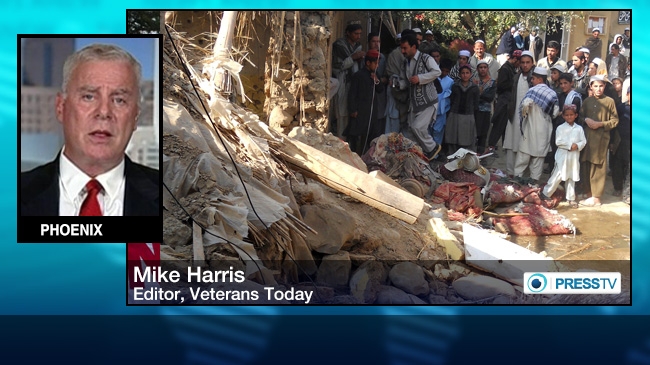 US drone strikes against Pakistan, which frequently target domestic buildings, are "an undeclared war" against the country and a "war crime against civilians," an American journalist says.
"We're not in a state of war with Pakistan. Pakistan officially has good relations with the US, so I don't understand why the CIA is interfering in bombing civilian households and killing civilians," said Mike Harris, an editor at the Veterans Today online journal.
"Someone needs to check the CIA on this and find out what the reasons for the engagement are, where those orders came from, who granted them authority to go in and attack a friendly country and to kill civilians," Harris told Press TV on Saturday. "It's an undeclared war."
The US military needs to withdraw from Afghanistan and Pakistan and let the people in those countries have autonomy and self-rule, he added. "We need to stop being the policeman of the world and quit trying to dictate as if we have some superior moral authority and…stop interfering in other people's countries."
New research reveals that domestic buildings continue to be the most frequent target of CIA drone strikes in the tribal regions of Pakistan.
A new investigative project by the Bureau of Forensic Architecture, a research unit based at London's Goldsmiths University, and New York-based Situ Research, has examined the types of target attacked by Unmanned Aerial Vehicles (UAVs) known as drones in Pakistan.
The study has revealed that throughout the 10-year deadly campaign in Pakistan, the CIA has consistently attacked houses killing many civilians. The research found that 61 percent of all drone strikes in Pakistan targeted domestic buildings with at least 132 houses destroyed.
The study's findings are in stark contrast to President Barack Obama's promise of greater transparency surrounding the controversial campaign.
In a major foreign policy speech on May 23 last year, Obama defended the drone program as effective while promising to narrow its scope and increase its transparency. However, critics say the president is showing no sign of relinquishing what has become his weapon of choice since he took office in 2009.