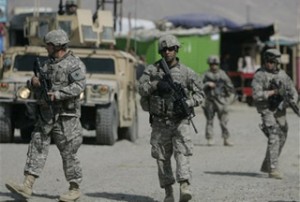 Thousands of coalition and Afghan soldiers have faced strong resistance from Taliban militants on the third day of the US-led offensive against their stronghold in Afghanistan's southern Helmand province.
The US-led forces were bogged down and could advance only 500 yards due to a fierce resistance by Taliban militants on Monday.
Taliban's sniper fire and bombs and booby traps planted in the region played a key role in coalition forces' failure to capture the town.
Thousands of coalition troops are working alongside the Afghan forces in Operation Moshtarak, meaning "together" in the Dari language, to capture Taliban strongholds in areas around Marjah and Nad Ali.
The biggest offensive undertaken by US-led forces in the nine-year war involves 15,000 troops. It is also the first big test for US President Barack Obama's new "surge" strategy for Afghanistan.
Civilian casualties have been a key concern for the NATO-led offensive as the deaths of Afghan civilians during NATO operations have undermined the coalition's efforts to win over the population.
High casualty numbers have helped Taliban recruitment in war-torn areas and stirred public anger that has eroded support for the fragile Afghan government led by President Hamid Karzai.