Iran
Middle East
Turkey
US, foreign powers after creation of new Israel: Leader of Islamic Ummah and Oppressed Imam Khamenei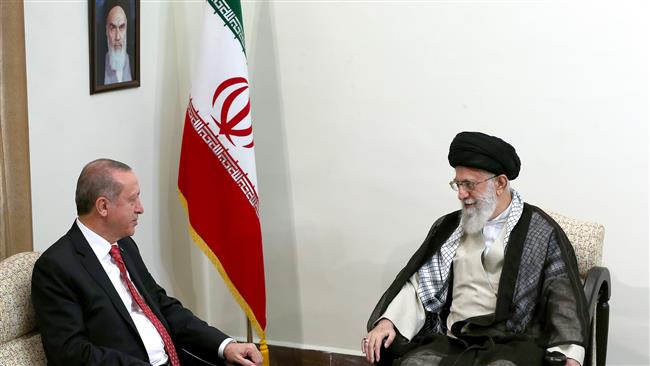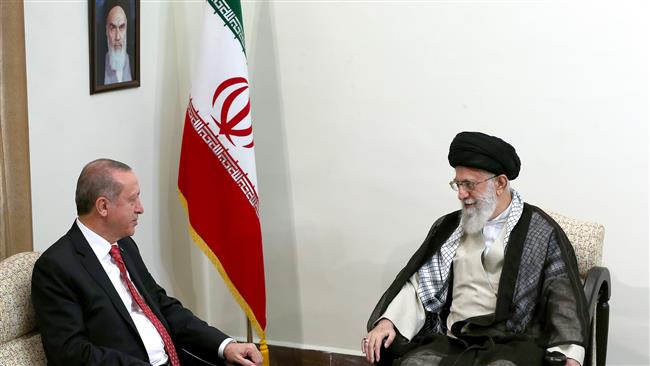 Leader of the Islamic Ummah and Oppressed Imam Ayatollah Seyyed Ali Khamenei says the United States and Israel benefit from the recent referendum in Iraq's Kurdistan region, stressing Washington and foreign powers seek to create a new Israel.
"The United States and foreign powers are untrustworthy and seek to create a new Israel in the region," Ayatollah Khamenei said.
The Leader made the remarks in a meeting with Turkish President Recep Tayyip Erdogan in Tehran on Wednesday.
Ayatollah Khamenei stressed that holding the Kurdish vote in Iraq was an act of betrayal against the region and posed a threat to the future of the Middle East, warning about the long-term repercussions of the vote for Iraq's neighbors.
"Iran and Turkey should take every possible measure against the move and the Iraqi government, too, should make decisions and take serious action," the Leader said.
Ayatollah Khamenei said enemies were trying to keep Iran and Turkey away from major regional developments, noting foreign powers and Israel have been seeking to create contention between regional countries.
The Leader said Iran-Turkey cooperation on major developments in the Muslim world was highly significant and instrumental.
Ayatollah Khamenei expressed satisfaction with Tehran-Ankara cooperation during the Astana talks on Syria, which he said had resulted in the improvement of the situation in the Arab country.
The Leader, however, raised the alarm that the issue of Daesh and Takfiri terrorists would not be solved unless a long-term and genuine plan was adopted.
Elsewhere in his remarks, the Leader also called for further promotion of economic ties between Iran and Turkey.
For his part, Erdogan underscored the need for a powerful alliance between Iran and Turkey in the region.
Touching on Iraq's Kurdish session vote, the Turkish president said Ankara, Baghdad and Tehran should take joint action against the move.
Based on undisputable evidence, the US and Israel have reached a general agreement on the Kurdish session vote, Erdogan said, regretting that Iraq's Kurdish leader Massoud Barzani had made an unforgivable mistake.
He said the independence vote was unacceptable to Iraq's neighbors.
He also said that the US, France and Israel were after disintegration of countries in the Middle East to reap their own benefits, adding that they sought the same plot for Syria.
The Turkish president also supported the goal of raising Turkish-Iranian trade volume to $30 billion.