Iran
Syria
World News
US, foreign powers support terror groups, Rouhani says in meeting with Erdogan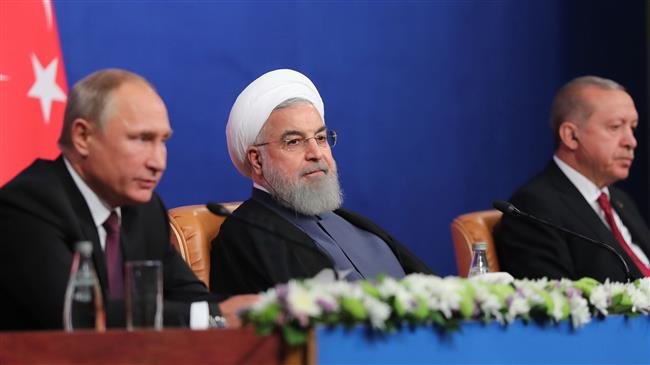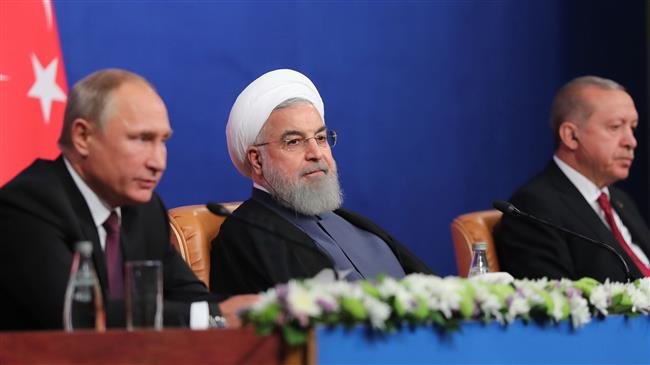 Iranian President Hassan Rouhani has lashed out at Western states, especially the US, for throwing their support behind terror groups.
"Unfortunately, terror groups in the region have been supported by foreign powers, especially the United States, for years," Rouhani said in a meeting with his Turkish counterpart, Recep Tayyip Erdogan, in Russia's resort city of Sochi on Thursday.
"Fighting terrorism requires collective cooperation," added Rouhani, describing the scourge to be among the worst predicaments facing the region.
The Sochi summit, hosted by Russian President Vladimir Putin, is aimed at solidifying the three countries' cooperation towards returning peace and stability to Syria.
Over the past years, Iran and Russia have been respectively lending military advisory support and aerial backup for the Syrian military in its battle against militants and Takfiri terrorists. The foreign-backed groups started a campaign of bloodshed and destruction against the Arab country in 2011.
In late 2016, Syrian forces liberated the northwestern strategic city of Aleppo – militants' biggest stronghold back then. Syrian President Bashar al-Assad said the recapture of Aleppo from foreign-backed terrorists was a victory not just for his country, but also for its Russian and Iranian allies.
The three countries, known as the guarantor states of a ceasefire regime in the Arab state, have been mediating peace negotiations between representatives from the Damascus government and opposition groups in a series of rounds held in Astana and other places since January 2017.
Russian Foreign Minister Lavrov says a planned meeting of the presidents of the three guarantor states of Syrian peace will be held in the Russian city of Sochi on February 14.
Elsewhere in his remarks, Rouhani hailed the fact that Tehran and Ankara shared a common will to fight terrorism and were cooperating in this regard.
"While we, in cooperation with Russia in Sochi, are taking a new step towards reinforcing stability in the region and fighting terrorism in Syria, some, who themselves, support terrorists, are plotting against our region in Warsaw," Rouhani noted.
He was referring to a so-called Middle East security summit, which was going through its final day in the Polish capital.
Major European countries have staged poor attendance in the conference in a sign of opposition to the US's anti-Iran stance. Russia, Turkey, Qatar, Lebanon, and the Palestinian authority have totally shunned the event.
Erdogan, for his part, acknowledged that his country had likewise suffered at the hands of terrorists, asserting that Ankara would continue bilateral and regional cooperation with Tehran in battling terrorism.
He added that Turkey welcomed the creation of the INSTEX (Instrument for Supporting Trade Exchanges), which is a Special Purpose Vehicle (SPV) devised by Europe to facilitate trade with Iran. INSTEX is a non-dollar trade mechanism meant to protect trade ties with Tehran in the face of US sanctions.
Erdogan said Turkey was prepared for cooperation within the framework of INSTEX, which the UK, France, and Germany announced on January 31, and was ready to create a similar bilateral mechanism with Iran.
"Multilateral cooperation with Iran on different issues has had positive achievements and Turkey is ready to expand this cooperation to other countries in the region," Erdogan added.
Iran military chief: US must end Syria occupation
Sochi also hosted a meeting among Chief of Staff of the Iranian Armed Forces Major General Mohammad Baqeri as well as Turkish Defense Minister Hulusi Akar and Russian Defense Minister Sergei Shoigu.
"The United States must end [its] occupation of Syria," Baqeri asserted during the meeting with his Turkish and Russian counterparts.
The US and its allies launched a military campaign in Syria in 2014, without obtaining Damascus' approval or a UN mandate, under the pretext of confronting Daesh. Their forces still stay in the country, although Syria and its allies have announced the defeat of the terror group.
Earlier this year, US President Donald Trump said the American troops in Syria would be leaving the Arab country, but Baqeri said the announcement was "more [similar] to [just] a claim."
"The three countries of Iran, Russia and Turkey, as the guarantors [of the peace process], demand the most immediate withdrawal of the forces, which are present in some spots across Syria and have occupied some areas without any coordination with Syria's legal government," the Iranian commander noted.
He also said the areas of priority in the trio's cooperation concerning Syria were expanding de-escalation zones, facilitating refugees' repatriation, ensuring security for liberated areas, demining, and cleaning up contaminated areas.