Iraq
Middle East
Syria
US-led coalition aircraft drop food, medicine to Daesh remnants in western Iraq: Report
The US-led coalition purportedly fighting the Daesh Takfiri terrorist group has reportedly dropped foodstuff and medical supplies to the remnants of the Daesh Takfiri terrorist group in Iraq's western province of Anbar and on the border with conflict-plagued Syria.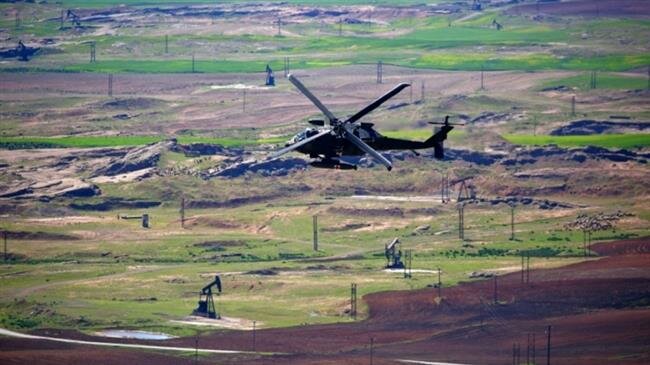 Arabic-language al-Maalomah news agency, quoting Qusay al-Anbari, a spokesman for Iraq's Badr Organization — a part of the Popular Mobilization Forces better known by the common word Hashd al-Sha'abi, reported on Monday that Daesh terrorists are hiding in the heart of Anbar desert area, and could only be reached by US-led military helicopters.
The report then cited locals, requesting not to be named, as saying that they have seen US-led coalition aircraft dropping food and medicine to the Daesh Takfiris.
'Daesh militarily weakened but yet to be defeated'Iraqi Prime Minister Adel Abdul Mahdi says the Daesh terrorist group has been militarily weakened but has yet to be defeated.
Back on February 17, local sources, requesting anonymity, told Syria's official news agency SANA that US-led military helicopters had landed in the Dashisha area of Syria's eastern province of Hasakah as well as Hajin town in Dayr al-Zawr province, and transported dozens of Daesh commanders and militants to unknown locations following a deal.
The sources added that the extremists, in return, directed the US-led forces to their caches of stolen gold east of Shaddadi town.
'US-led coalition evacuates Daeshis from last stronghold'A UK-based monitoring group says trucks belonging to the US-led coalition have secretly transferred Daesh Takfiri terrorists out of their last bastion in eastern Syria.
SANA, citing information received from local residents, reported on November 13 last year that American helicopters had evacuated several Daesh terrorists from the village of al-Suwayda in Hasakah to an unknown location.
The US-led coalition has been conducting airstrikes and operations against what are said to be Daesh targets inside Syria since September 2014 without any authorization from the Damascus government or a United Nations mandate.
The military alliance has repeatedly been accused of targeting and killing civilians. It has also been largely incapable of achieving its declared goal of destroying Daesh.