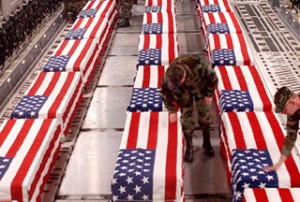 Three more US-led NATO soldiers were killed in Afghanistan in separate incidents on Sunday, bringing the total number of foreign troops who have died so far this year to 117.
In a statement, NATO's International Security Assistance Force said that one soldier was killed by gunfire and another by an improvised bomb in the south of the country, and the third by gunfire in the east.
The alliance, however did not disclose the nationality of the deceased or the exact location of the incidents, AFP reported.
Despite a considerable troop surge, last year was the deadliest yet for US-led foreign forces in Afghanistan, with 519 fatalities reported in the conflict.
The number of US and NATO troops in Afghanistan is expected to further rise from 121,000 to 150,000 by the end of this year.
Around 15,000 US and NATO troops launched a major assault in Helmand province's Marjah and Nad Ali areas on February 13 to battle militancy in the region.
Both Afghan and NATO officials say progress is being slowed by militant-led violence.
The biggest victims of the offensive, however, have been civilians residing in the conflict areas. The residents have been forced to flee their homes in pursuit of basic necessities, despite roadside bombs planted by militants.
Moreover, the civilians fall victim to US-led forces assaults as well as militant fire on a regular basis.