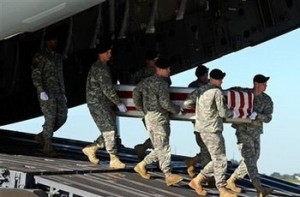 Another US-led soldier has been killed in southern Afghanistan, as the death toll for foreign forces in the volatile country continues to mount.
NATO said in a statement on Thursday that the soldier was killed by an improvised explosive device on Wednesday. The alliance, however, did not disclose the nationality of the soldier and the location of the incident.
Earlier on Wednesday, two other US-led troops were announced dead in the same region.
According to an AFP tally, the latest deaths bring the number of US-led soldiers killed this year in Afghanistan to 269.
Reports say the militants have increased their attacks on Western forces in response to the alliance's plans to launch another major attack against the Taliban in the southern Afghan province of Kandahar.
The rising number of casualties has increased opposition to the Afghan war in the member states of the Western military alliance.
There are a total of 130,000 foreign troops based in the war-torn country. The US has plans to deploy 30,000 extra troops by August.
The US-led troops invaded Afghanistan in 2001, with the official objective of curbing militancy and bringing peace and stability to the war-ravaged country. Nine years on, however, Afghanistan remains unstable and civilians continue to pay the price.