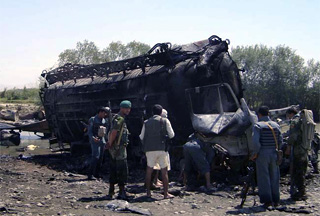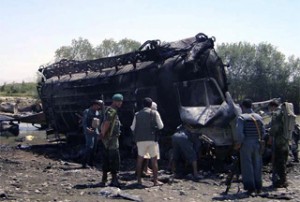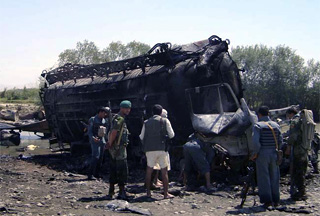 Taliban militants have set fire to a convoy of US military fuel tankers in the eastern province of Nangarhar, eyewitnesses say.
Eyewitnesses in the eastern Afghan province of Nangarhar say that a group of Taliban militants attacked a convoy of US military tankers around the provincial capital of Jalal Abad on Sunday, torching three out of the five tankers around a local tunnel on the road to Kabul, a Press TV correspondent reported.
The attack disrupted the road for some time before security forces arrived at the scene.
There have been no reports of casualties.
The Taliban militants have on various occasions targeted fuel supplies in the east and south of country in an effort to interrupt military operations of international forces in the war-torn country.
The United States launched the war against the ruling Taliban in 2001 in the wake of the 9/11 terrorist attack on the US.
The eight-year war has claimed the lives of thousands of civilians and woundied and displaced many more.