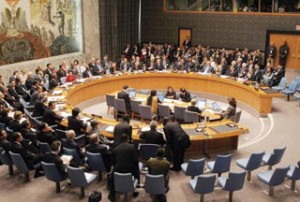 The United States has not accepted the UN Security Council statement voicing concern about the recent fighting between the Israelis and Palestinians, reports say.
The United Nations Security Council expressed concern over the tense situation in the occupied Palestinian territories on Friday, urging all sides to show restraint and avoid provocative acts.
According to reports, the American delegation has rejected the statement.
The statement was adopted due to "procedural confusion," the US delegation reportedly claimed on Friday.
Israeli forces stormed the courtyards of the Al-Aqsa Mosque in the occupied East Jerusalem Al-Quds on Friday and injured Palestinian protesters who had gathered there.
The United States has made it a routine to block all Security Council statements and measures against Israel.