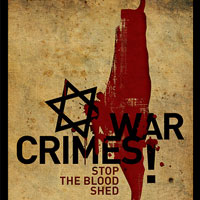 A group of Muslim students are being tried in the US for protesting during a speech by Israel's ambassador to the United States in 2010, Press TV reports.
State of California prosecutors argued on Wednesday that the 10 Muslim university students broke the law when they repeatedly interrupted a speech by the Israeli envoy, Michael Oren, during a public meeting in the University of California, Irvine, in February 2010.
The Orange County District attorney alleged that the Muslim students, known as "Irvine 11", violated Oren's right to free speech by delaying his remarks for 20 minutes.
However, supporters of the students insist that they were practicing their constitutional rights based on the First Amendment to the US Constitution and should not be criminalized for protesting.
"A foreign ambassador is coming to our home and talking to us about these issues and we can't have a voice at the table nor can even voice it out in a protest," said Kifah Shah of the 'Stand with the Eleven' group, in a Press TV interview.
Since the incident, the students and the school's Muslim Student Union chapter have been disciplined by university officials.
A group of peace organizations believe the prosecutors pursued criminal charges due to political consideration in favor of the Israeli regime, the prime US foreign ally.
The group says the case is a prime example of selective prosecution and that the students are being punished because the Israeli ambassador was involved.
"Because they were protesting the activities of his country and also because the young men were all Muslim, and because perhaps those behind the prosecution thought that they could get away with it because of the rampant Islamophobia in this country," said Ameena Qazi from the Council on American-Islamic Relations (CAIR) of Los Angeles.
CAIR says this case has dealt a significant blow to Muslim-American students on college campuses across the country.
The Muslim organization says the prosecution would prevent Muslim students to feel that they are equally accepted in society and allowed to participate in public events.
The Irvine 11 trial is scheduled to last several weeks with closing arguments expected by September 23. If convicted, the Muslim students face up to six months in jail.