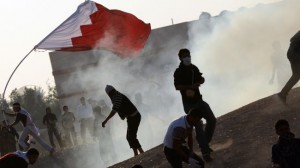 A political analyst says the US and UK are lending different types of support to the Bahraini regime in its brutal crackdown on protesters, Press TV reports.
In an interview on Thursday, Ali Al Fayez, a Bahraini activist, said that Washington and London were lending "direct" support to Manama.
"The United States and United Kingdom are not only supplying weapons and supplying security know-how to … the regime of Al Khalifa, but they are [also] providing them with the political coverage (support) everywhere," Fayez said.
"Today, [the] Bahraini regime is … still continuing this killing machine because it is enjoying the support from particularly the United States and United Kingdom," he added.
The commentator pointed out that the US and UK also impede any efforts by the Bahraini people to file complaints against the regime in international courts.
He went on to say that Washington supports the Persian Gulf monarchy because it is home to the US Navy's Fifth Fleet and also because America has built up allies in the Persian Gulf against Iran.
"I think the Fifth Fleet is one of the factors that play a big role in supporting the Al Khalifa regime, but that is not the only factor. Americans have built up their allies in the [Persian] Gulf based on their problem with the Iranian revolution," Fayez reiterated.
Bahrainis have been staging demonstrations since mid-February 2011, calling for political reforms and a constitutional monarchy, a demand that later changed to an outright call for the ouster of the ruling Al Khalifa family following its brutal crackdown on popular protests.
Scores have been killed, many of them under torture, while in custody, and thousands more detained since the popular uprising in the Persian Gulf kingdom.
Protesters say they will continue to hold anti-regime demonstrations until their demand for the establishment of a democratically-elected government and an end to rights violations are met.
Bahrain is a US ally in the Persian Gulf region and the Middle East.