Middle East
Palestine
Syria
US wants Syria destroyed for not bowing to 'israel': Activist
Syrian President Bashar al-Assad has successfully managed to prevent his country from disintegration since foreign-backed militancy broke out there, says an American activist.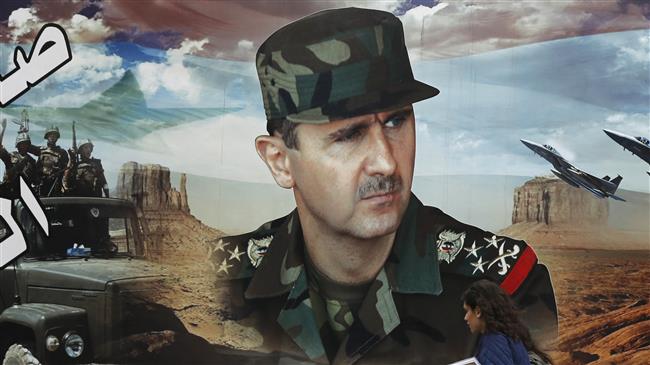 Ken O'Keefe, a peace activist and former US marine in Denver, told Press TV's "The Debate" on Thursday the United States as well as its regional allies want Syria destroyed for not submitting to Israel.
The Syrian army is currently in the midst of a major operation to flush out remaining pockets of terrorist-held land in the Idlib region, with an army spokesman saying many villages and towns have been purged of terrorists.
Syrian govt. forces liberate more areas in Idlib province from terrorists' gripSyrian government forces liberate more areas in the country's militant-held northwestern province of Idlib.
"No one who has any integrity would say that if Bashar al-Assad was gone, then that country would not be as bad as Iraq if not worse, it is because of Bashar al-Assad that this country has incompletely disintegrated… That man is keeping that country together and God loves the Syrian people as well who are standing behind the man who they know if he falls it's going to be worse than what it is," O'Keefe told Press TV on Thursday.
"He's got very difficult challenges ahead of him, but I believe that this man not only has the integrity but also the wisdom to do it the right way and I know for a fact that the Syrian people like the Palestinian people will never give up, die if you must but never give up and never bow to those who wish to continue the enslavement of humanity," he added.
The former US marine went on to say that "Syria is the country that has not bowed yet, they want to destroy Syria because America is the little weeping boy to the Jewish state of Israel, that's a fact and they want to destroy Syria."
Foreign-backed militancy, supported by the United States and many of its Western and regional allies, erupted in Syria in 2011.
Idlib and nearby areas of Hama, Aleppo and Latakiya provinces are threatened by the Jabhat al-Nusra and Hayat Tahrir al-Sham (HTS) terrorist groups.
Idlib remains the only large area in the hands of terrorists after the Syrian military managed to undo militant gains across the country and bring almost all of Syrian soil back under government control.
On August 5 last year, the Syrian army announced the start of an offensive against foreign-sponsored militants in Idlib — the last major stronghold of militants in Syria — after they failed to honor a ceasefire brokered by Russia and Turkey and continued to target civilian neighborhoods.
Under an agreement reached in Sochi, Russia, in 2018, all militants in the demilitarized zone that surrounds Idlib and also parts of the provinces of Aleppo and Hama had been obliged to pull out heavy arms by October 15 that year.
Syrian authorities have opened three humanitarian corridors for civilians from areas controlled by foreign-sponsored militants in the northwestern provinces of Aleppo and Idlib to leave and move to government-controlled parts of the country.
The Syrian army, backed by Russian air cover, has already regained almost all territories once controlled by terrorists, except portions of Aleppo and large swaths of Idlib, which are still held by foreign-backed militants.
Syrian army troops seize control of most of strategic city in IdlibSyrian government troops have seized most of most of neighborhoods in the strategic city of Ma
Seth Manzel, a US veteran from Washington, was the other panelist invited to the show and underlined the significance of the Syrian army and its allied forces in making gains west of the city of Aleppo.
"Everyone was kind of living in harmony there in Syria prior to western intervention through funding these groups and hopefully people can return to their homes and people can get back to normal life in that area," he said.
Manzel also denounced as "completely unfounded" the presence of Turkish troops in Syria, saying Turkey has "no right" to be in the Arab country at all and that, "The sooner Turkey leaves Syria, the better off everyone will be."