Featured
US war blamed for Afghan hunger crisis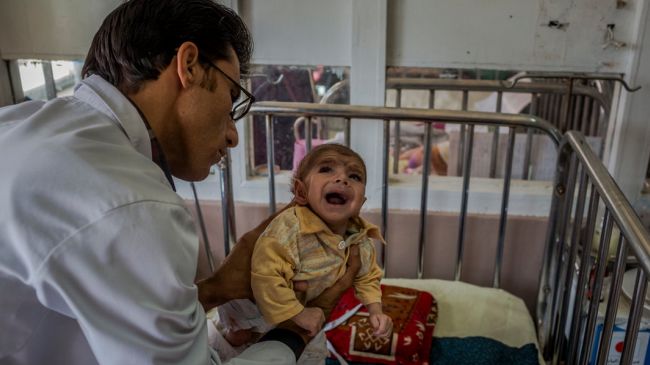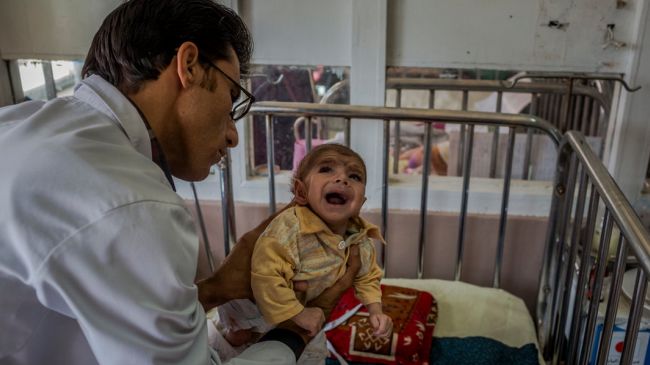 United Nations figures show that malnutrition among Afghan children has increased more than 50 percent since 2012, with medical sources blaming the US-led war for the crisis.
Hospitals across Afghanistan have been registering significant increases in severe malnutrition among children, The New York Times reported on Saturday.
Severe cases have been reported in the provinces of Helmand, Kandahar, Kunar, Farah, Paktia and Paktika — all places where the US-led war has wrecked people's lives and pushed the poor over the nutritional edge.
Medical sources and aid workers have mainly blamed continuing war and refugee displacement for the hunger crisis.
"In 2001, it was even worse, but this is the worst I've seen since then," said Dr. Saifullah Abasin, the head of the malnutrition ward at Indira Gandhi Children's Hospital in Kabul.
"It's quite an unusual situation, and it's difficult to understand what's going on," said Wiet Vandormael, a Doctors Without Borders official who has helped coordinate with Bost Hospital in Lashkar Gah, the capital of war-torn Helmand province.
Doctors treating the victims give several explanations for the crisis. "There are mines in their fields, and they can't get to their crops," said Dr. Dawood in Helmand province. "And they can't get to help at local clinics, so they're coming in very late stage in very critical condition."
The United States has spent nearly one trillion dollars on the unpopular war in Afghanistan, which has become the longest war in US history.
The US and its allies entered the war in Afghanistan in October 2001 as part of Washington's so-called war on terror. The offensive removed the Taliban from power, but the war has ruined the lives of people of Afghanistan.
The United States' use of radioactive munitions in Afghanistan has destroyed the people's health and mutilated the genetic future of the country, an Afghan political activist told Press TV in 2012.
Dr. Mohammad Daud Miraki, the author of Afghanistan After Democracy: The Untold Story Through Photographic Images, said that the US has committed horrific crimes against the people of Afghanistan.
He said the US military has used depleted uranium in the country and Afghan babies are being born with severe deformities.
Exposure to depleted uranium causes genetic damage, birth defects, cancer, diabetes, immune system damage, and other serious health problems.
Miraki has described the use of DU weapons as genocide in his book, which provides an insight into the grimness of life under the US occupation.