Syria
Valiant Syrian Army marches on near Damascus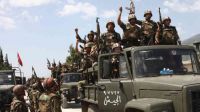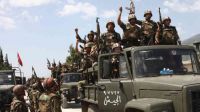 The Syrian army is making progress in its operations against foreign-backed Takfiri terrorists in the suburbs of the capital, Damascus.
According to Press TV, Syrian troops on Sunday advanced into some areas of Damascus suburbs including al-Qaboun and Jobar, inflicting heavy losses on the terrorists.
In Jobar, the army units gained more ground after killing a number of insurgents and confiscating weapons.
The army also discovered an insurgent hideout used for making explosives near al-Manasher square, where poisonous chemical materials including chlorine were found. Some of the chemical containers had 'Made in Saudi Arabia' label on them.
The Syrian army also regained control of al-Musiqa battalion base, which is still in the range of militant sniper fire.
According to official sources, more than 60 percent of Jobar is under the control of the army.
Syrian army personnel told Press TV that they would continue operations until clearing all of the suburb area of Eastern Ghuta.
In al-Qaboun, fierce fighting between the army and militants continued, with the army securing the municipality building and a school. Several residential buildings were also cleared of militants.
On July 13, Syrian forces took control of an industrial zone in al-Qboun that links it with Jobar.