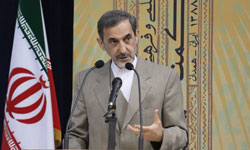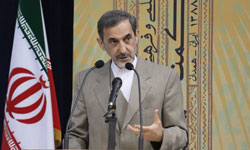 A senior advisor to the Leader of Islamic Ummah and Oppressed People Imam Sayyed Ali Khamenei said that pressure on Syria is aimed at weakening the resistance front in the region since Syria is a pioneering country in the confrontation against the Zionist regime.
Senior Advisor of the Leader of Islamic Ummah and Oppressed People Imam Sayyed Ali Khamenei for International Affairs Ali Akbar Velayati made the remarks on Saturday on the sidelines of a ceremony to welcome the members of Global March to Jerusalem (GMJ).
"The West aims to break the chain of resistance against Zionist regime and they are not advocates of Syrian nation; Damascus is the pioneer of fight against occupying force of Zionist regime and a big supporter of Lebanese resistance movement, elimination of anti-Zionism thoughts and eliminating Bashar Assad government are the goals of the West efforts," he added.
Velayati stressed that Global March to Jerusalem (the Holy Quds) shows the Muslim public commitment to free Palestine.
120 delegates of the caravan are preparing themselves to proceed towards Turkish border and then via Mediterranean sea dock at Beirut port on 27th March where the number will be increased to 250 delegates.
A large number of renowned figures from across the world have voiced their support for the upcoming Global March to Jerusalem due to take place on March 30th, 2012.
The Global March to Jerusalem will take place on Friday 30th March 2012 where hundreds of committees and campaigns all over the six continents will participate in order to highlight the suffering the people of Jerusalem are going through as a result of the occupation's Zionist and racist practices.
The slogan of the March will be "Peoples of the world demand the freedom for Jerusalem… People of the world demand to end the occupation of Palestine".