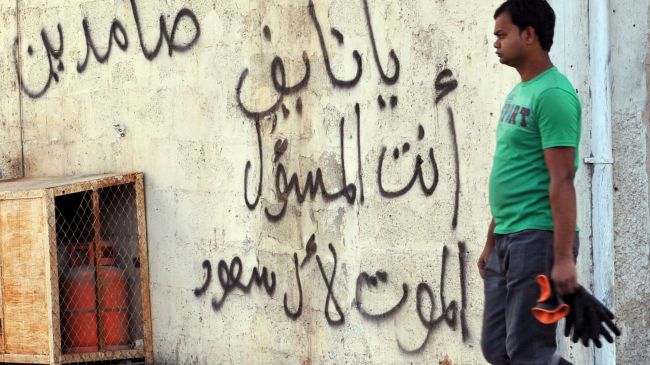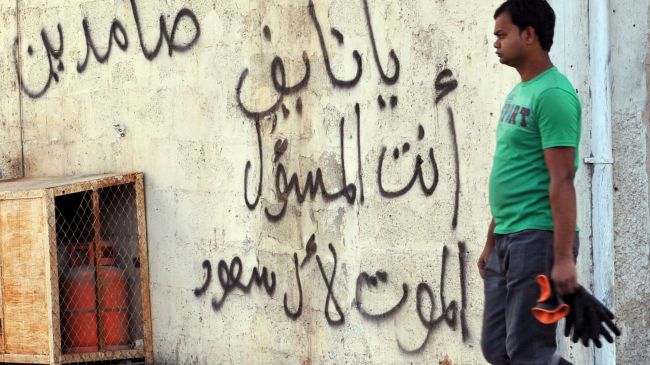 A Saudi Arabian vendor has self-immolated in the northern city of Ar'ar as anti-regime protests culminate in the Persian Gulf kingdom.
The incident occurred after Saudi authorities arrested the street vendor where he had plied his trade, Arab media reported on Thursday.
The man was being taken to the police station when he set himself on fire during a short stop at a gas station.
Media reports indicated that the man was saved before he had sustained major injuries.
The protest action against government injustice in Saudi Arabia is reminiscent of Mohammed Bouazizi's self-immolation in January 2011, which sparked the popular revolution in Tunisia.
Saudis have been holding peaceful demonstrations in Eastern Province since February 2011 to demand reforms, freedom of expression and the release of political prisoners.
Protesters also want an end to economic and religious discrimination against the oil-rich region.
Riyadh has intensified its crackdown on protesters since the beginning of 2012. Activists have, however, vowed to continue their movement.
Security forces have killed several anti-regime protesters in Saudi Arabia since last November.