Latin America
World News
Venezuela arrests 11 suspects in raid on military post
On Monday, senior officials of the Venezuelan government said 11 people were arrested in connection with a raid on a remote military facility in southern Bolivar State near the border with Brazil.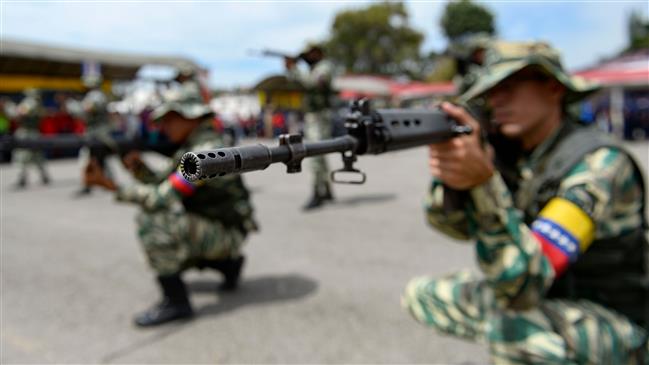 Venezuelan security forces managed to apprehend some of those involved in the attack, including some who had earlier deserted the Venezuelan army. However, others fled across the border to Brazil with stolen military weapons.
The government accused Brazil, Colombia, and Peru — all adversaries of Venezuela's socialist administration — of complicity in the attack, in which one Venezuelan soldier was killed.
The presidents of those countries, who regard opposition leader Juan Guaido as the Venezuelan "interim president," dismissed the accusation.
Nonetheless, in an evening address on state television, Venezuelan President Nicolas Maduro called on Brazilian President Jair Bolsonaro to capture the assailants in the Brazilian territory and send the stolen weapons back to Venezuela. Maduro said the raid was planned by a top opposition leader, whom he described as a terrorist.
The opposition, however, had other reasons for the incident. Other lawmakers dismiss such scenarios, adding that the army is loyal to Maduro.
Opposition attempts to topple President Nicolas Maduro have repeatedly failed this year, and his supporters believe Maduro has reinforced his leadership and will improve the country's situation next year.