Latin America
World News
Venezuela asks Brazil to hand over 5 defectors according to int'l law
Venezuelan President Nicolas Maduro has asked Brazil to hand over five of the country's military officers suspected of involvement in a recent raid on a military outpost in southern Venezuela who have fled to Brazilian territory.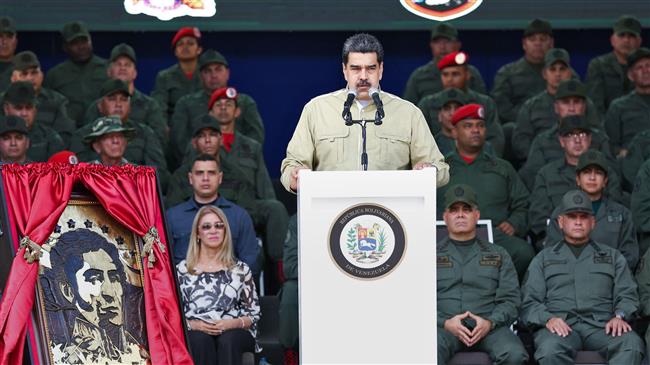 Last weekend, a group of assailants stormed a Venezuelan military unit in the southern state of Bolivar near the border with Brazil, killing one soldier and stealing an amount of weapons.
Maduro accused Colombia, Peru, and Brazil — all adversaries of Venezuela's socialist administration — of complicity in the attack, which all three countries denied.
The Venezuelan defense minister also blamed opposition-linked elements and said "extremist opposition sectors" had launched the attack on the garrison in Bolivar State.
Venezuela: Opposition-linked elements launch deadly attack on military outpostVenezuela says opposition-linked elements have launched a deadly raid on a military unit in the south with the support of Peru, Brazil and Colombia.
The Brazilian government said in a statement earlier in the week that it was processing asylum claims from five Venezuelan soldiers, with a Brazilian military source saying the soldiers were linked to the December 22 attack inside of Venezuela.
On Saturday, Maduro said Brazil was bound by international law to hand over the five.
"A military deserter who enters another country and is detained should be handed over immediately," Maduro said in a state television address. "Sooner rather than later, these terrorists will be in the hands of Venezuelan justice."
There was no immediate response from Brazil.
The Venezuelan president also said three suspects had been detained and that the government had recovered 111 of the 120 rifles and eight of the nine grenade launchers that had been stolen in the attack.
Violent attempts to topple Maduro have repeatedly failed this year.
Venezuela has been shaken by political unrest since January, when opposition politician Juan Guaido declared himself "interim president," challenging the outcome of last year's presidential election, which Maduro had won.
With US backing, Guaido has since been attempting to unseat Maduro.