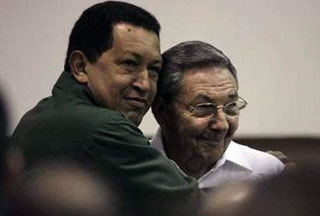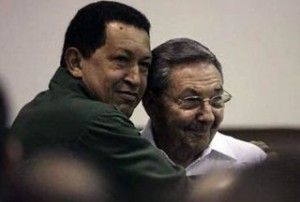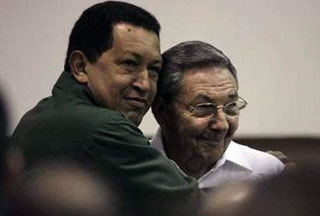 Latin American allies Venezuela and Cuba have strengthened their relations by signing cooperation agreements worth of 3.2 billion dollars.
Venezuelan President Hugo Chavez and his Cuban counterpart Raul Castro on Saturday signed some 285 cooperation agreements that will go into effect in 2010.
Chavez, who arrived in Cuba on Friday, said that the nations began increasing cooperation in 2000 with 17 modest projects worth some $30 million.
"This is a mechanism of cooperation, which has no other precedents in the world. It is unbelievable in the way it has been forged over the last 10 years," the president added.
Meanwhile, President Castro said that Venezuela would remain the primary trade partner for Cuba.
Trade between Caracas and Havana has reached $8.7 billion, mainly in the health, education, agriculture and energy sectors.
The two presidents on Sunday will attend a summit of the ALBA, a leftist bloc Chavez founded in 2004 as a counterweight to the US-sponsored Free Trade Area of the Americas.
ALBA's nine members include Venezuela, Bolivia, Cuba, Ecuador, Nicaragua, Honduras, Dominica, Saint Vincent and the Grenadines and Antigua and Barbuda.