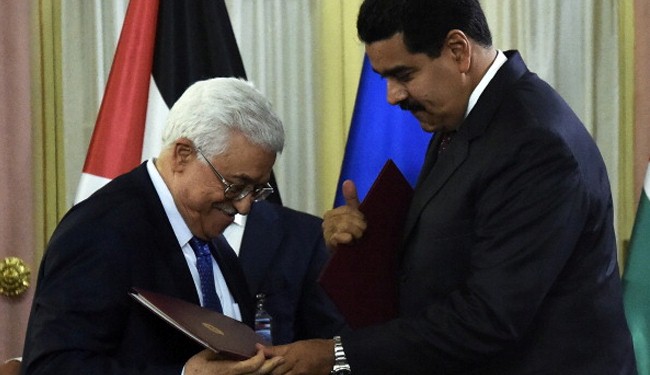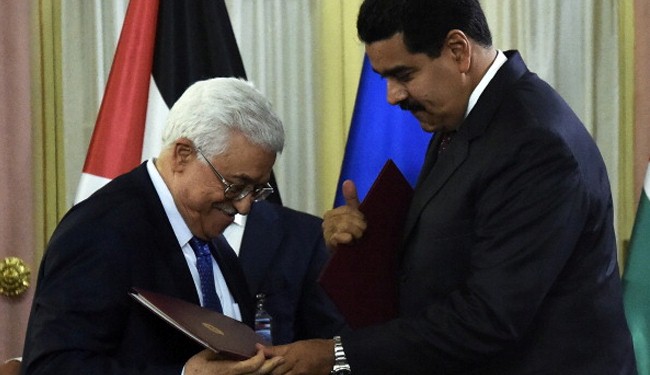 Venezuela will send diesel fuel to the Palestinian territories as part of a deal with the Palestinian Authority to offer relief to Palestinians after suffering years of Israeli embargos.
Acting Palestinian Authority chief Mahmoud Abbas signed the energy agreement during a meeting with Venezuelan President Nicolas Maduro in the Venezuelan capital, Caracas, on Friday.
"Thank you Venezuela for supporting Palestine, thank you Venezuela for helping to break the monopoly that Israel has over our economy," Abbas said after signing the deal.
President Maduro said the energy agreement "is from Venezuela to Palestine for the diesel that Palestine needs to keep its economy growing and consolidating. PetroPalestine is born and it's the alliance between Venezuela and Palestine."
The two sides also exchanged views on a number of issues including the Israeli-Palestinian conflict.
Abbas is on a two-day trip to Venezuela with the goal of strengthening bilateral ties.
He plans to garner support for Palestinian Authority's quest to be granted observer status in the Union of South American Nations (UNASUR), the Bolivarian Alliance for the Peoples of Our America (ALBA), and the Community of Latin American and Caribbean States (CELAC).
The Palestinian Authority won observer status at the United Nations in November 2012 despite fierce opposition from Israel and the United States.
The visit comes days after the Palestinian resistance movement of Hamas and the Palestine Liberation Organization (PLO), which includes the Fatah party, agreed to resolve differences and form a unity government.
The Israeli siege has had a disastrous impact on the humanitarian and economic situation in the impoverished enclave of the Gaza Strip, having turned the territory into the world's largest open-air prison.
Amnesty International has called on the Israeli regime to immediately end the illegal blockade it has imposed on the Gaza Strip which has left many struggle for humanitarian supplies.