Iran
Latin America
Middle East
Venezuelan envoy: Iran's revolution, people, leadership 'a great example' for Latin America
Venezuela's ambassador to Tehran says the 1979 Islamic Revolution, thanks to having roots in people's will, has had a great impact not only on Venezuela, but also on other Latin American countries and the whole world.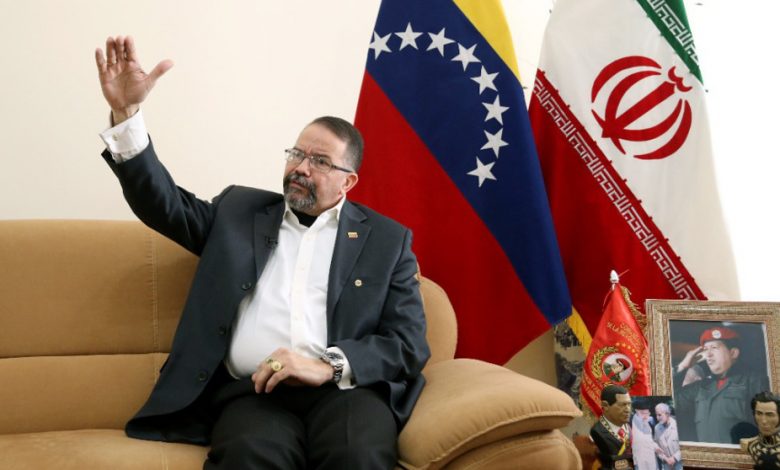 "We in Latin America have great respect for the Islamic Revolution, the Iranian people and leadership, who set a great example for us," Carlos Antonio Alcala Cordones has told Iran's official news agency IRNA.
The ambassador also said what the revolutions in Iran, Cuba and Venezuela have in common is their resistance and opposition to the US imperialism and its hegemonic policies and doctrines.
"The Islamic Revolution [in Iran], the Cuban Revolution, and the Venezuelan Bolivarian Revolution oppose these policies," he said.
Cordones drew a comparison between the revolutions in Iran and Venezuela, saying they were both against imperialism and hegemonic regimes such as the United States and Israel.
Other commonalities, he said, include the holding of a referendum in both countries to consult with the people about the constitution and both nations' participation in the decision-making process through elections.
'States subjected to US sanctions should close ranks'
The envoy underlined the need for the formation of a bloc consisting of Iran, Venezuela, Russia, China, and etc. against the US, which has imposed sanctions on all of them.
"A measure that can help us confront the United States and its allies is to unite, share experience and information, socialize, and organize a bloc among the countries that are sanctioned… In the face of American imperialism, we must unite financially, economically, socially and culturally, as well as through art, sports, science and technology," he said.
"If such a bloc is set up, Iran, Venezuela, Russia, China, and etc. can support each other against their common enemy, the White House."
Gen. Soleimani 'symbol of love and sacrifice'
The ambassador hailed the character of General Qassem Soleimani, who was assassinated by the United States in early 2020, saying a visit by Iran's top anti-terror commander to Caracas played a key role in reinforcing bilateral relations.
Cordones said General Soleimani was "a symbol of love and sacrifice for the homeland, government and sovereignty of Iran, as well as a great example to be followed."
He said the legendary commander's trip to the Latin American state was of paramount importance to the Caracas government, and that it contributed to the further expansion of bilateral ties between the two countries.
General Soleimani was assassinated along with his Iraqi trenchmate Abu Mahdi al-Muhandis, the deputy head of the Popular Mobilization Units, in a US drone strike ordered by ex-president Donald Trump near Baghdad International Airport on January 3, 2020.
Both commanders were highly popular because of the key role they played in eliminating the Daesh terrorist group in the region, particularly in Iraq and Syria.
Venezuelan President Nicolas Maduro said late last year that General Soleimani had visited the country between March and April of 2019.
'Iran revitalized Venezuela's oil industry'
Additionally, the ambassador expressed his gratitude to Iran for sending ships carrying fuel, food and other products to Venezuela at a critical time and playing a key role in revitalizing the country's oil industry.
He also hailed Iran's opening of Magasis chain stores and pharmacies in Venezuela, saying his countrymen are very thankful to Iran because the Islamic Republic, as a friendly and brotherly country, has always supported the liberation of Venezuela.
'Iran, Venezuela should enhance ties'
Cordones stressed that Venezuela's late president Hugo Chavez was the one who reactivated a friendly relationship with Iran, adding that the current administration in Caracas is pursuing the same strategy.
The two countries, he noted, have signed agreements on the supply of medicines and medical equipment and have now reached a financial strategy to facilitate transactions.
He further said that his three-year tenure in Iran, the two states have increased their bilateral exchanges and inked several deals to boost cooperation in energy, tourism, food industry, defense, healthcare and security sectors.